Navigating Midtown South's Dearth of Space with RXR Realty's William Elder
---
---
William Elder has helped fuel immense growth as director of leasing and managing director of RXR Realty's New York City platform. The firm now owns and operates what is soon to be nine million square feet of real estate as it expands its horizons outside of the city and continues to cultivate its existing Manhattan portfolio. "We saw the Manhattan market beginning to tighten in certain areas and we believe it's pushing tenants to other areas, like downtown, Brooklyn and Long Island City," he said, noting this month's acquisition of 470 Vanderbilt Avenue in Brooklyn as one example. "We've broadened our scope by design to more emerging markets in the city and farther beyond." Midtown South is both thriving and partially to blame for the phenomenon, as landlords hang onto assets, rents remain at record-breaking levels, space runs out and tenants shuffle around in an attempt to create it. Mr. Elder spoke to Commercial Observer about his firm's heavy stake in Midtown South and leasing across its portfolio, including renovations at the Starrett-Lehigh Building and Spotify (SPOT)'s expansion at 620 Avenue of the Americas earlier this year, a deal that embodied tenants' ardent quest for space in the booming submarket.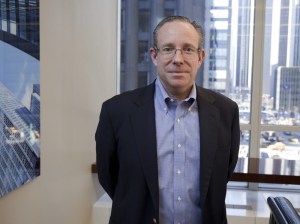 Commercial Observer: Has the unbridled growth of Midtown South encouraged your expansion into other markets?
Mr. Elder: It has, and we saw it building 18 months ago. I think the headline for Midtown South is: "Good luck finding any kind of meaningful space." It's one of the tightest submarkets in the country, at 6.5 percent vacancy, but I also don't think that tells the full story. If you look at big blocks of space, 50,000 square feet and up, there aren't many; I think there are three or four that are somewhat built-out or in any kind of shape to retrofit in the entire submarket. When we started to see the Twitter phenomenon—where they got bounced out of 51 Astor [Place] then ended up on 17th Street and bounced another tenant there—it was an encouraging thing to see because you know that people still want to be there and are willing to pay for it, [but] at some point they have to go elsewhere. These tenants are looking for efficient, big floor plates and buildings with character. And we've focused on acquiring those types of assets in Midtown South, Downtown Manhattan, Brooklyn and, frankly, even Midtown.
Spotify expanded to 123,000 square feet at 620 Avenue of the Americas earlier this year. How did the lease play out?
Herein lies the issue that a lot of companies have experienced in that they anticipated phenomenal growth but maybe didn't see it happening as fast as it did. Spotify was pretty much out of luck as far as their expansion opportunities in the building until I was able to shrink Cole Haan down and accommodate that expansion. It's not ideal because it's not contiguous space, but it keeps everyone together and it's better than being across the street for sure. It was great for us because they are the type of tenant that epitomizes the area. It's a great business and it has completely changed the vibe of the building.
Last year, the advertising technology company Mediaocean leased the building's entire sixth floor. Why were they a good fit?
Mediaocean is a great example of a tenant that needs to be in that area and needs to work efficiently. They have just designed their space and the floor plan is phenomenal. There isn't one hard office in 90,000 square feet of space. It's all collaborative, open conference rooms, meeting areas, game areas —but not one office, so the executives sit on the open plan with everyone else. It's a very interesting firm using some very interesting technology and it's inspiring to know that these types of tenants find this space to be a value proposition to their business.
There's been a lot of talk about a flow of tech and creative tenants downtown. Are you experiencing it? 
We're definitely seeing it—and it's building. The whole character of Downtown Manhattan has changed dramatically from five years ago and 10 years ago and tenants find that exciting. But it's also more affordable. The social media, creative and tech-type tenants will pay up if they have to. But they can't get the space. There is no space, especially for the bigger guys. It's a lack of supply that's pushing them to other areas and eventually I think it will flow into Midtown as well.
We've heard all about Midtown South as a tech and creative haven. What else is drawing companies and people in?
The old adage of living in Westchester County or Greenwich or New Jersey and commuting into the city still happens, but a lot of people don't [want to do it anymore]. When you look at this area, it's got everything. People want to be able to walk to work and all the amenities, with restaurants, bars, lifestyle options, parks, the High Line, the Hudson River. It's all there. People don't want the decompression time of living in the suburbs and coming to work. They want easy access.
A great analogy is Johnson & Johnson, which has its worldwide marketing group at the Starrett-Lehigh Building. They would love to have [their employees] in New Brunswick, but it's problematic to get the creative geniuses to go there.
In February, the advertising firm mcgarrybowen absorbed 45,000 square feet of space formerly occupied by Martha Stewart Living at the Starrett-Lehigh Building. Can you describe the dynamics of that deal and how it plays into the rest of the property?
Martha was one of the original driving forces of the asset and she's still got a very meaningful presence—close to 200,000 square feet. This just allows tenants that are growing to do so. We also brought in Under Armour, which contributes to this great mix of really creative tenants in multiple categories. Some of them are fashion designers, some are lifestyle makers, some are advertising firms, but they all create something unique that demands real creative power—and it speaks to the quality of the building that they want to be there.
What's the status on the Starrett-Lehigh Building updates and renovations?

We opened the 15,000-square-foot [Under Armour Performance Center] this month. It's open to tenants only, and they are really enjoying it. We also have a director of social media down there who works specifically on that building and who through various platforms is constantly engaging with the tenants and alerting them to things happening in the building and holding symposiums.
One of the cool parts of the lobby is a full video wall that engages the occupants as soon as they walk in. We have four video monitors at the top of the wall that will show content regarding what the tenants are up to in terms of product lines or their space and touch-screen monitors below that find tenants, the food schedule, other happenings in the building and the neighborhood. There's a brand new terrazzo floor and a manufacturing element through certain metal cladding of columns. So it's a mix of modern and old with the intention of keeping with the original design.