Edward Minskoff in Negotiations to Fully Lease 51 Astor Place
---
---
Edward Minskoff is "optimistic" that the IBM Watson building at 51 Astor Place will be fully leased within the next month-and-a-half, as negotiations for the property's final two floors play out following a leasing frenzy that has filled most of the "spec" tower. 
Deals for floors 10 and 11 would follow the string of high-profile leases that brought in reported rents that in some cases stretched well beyond $100 per square foot.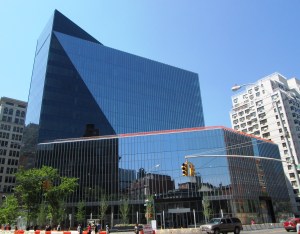 "Leases are in negotiation (for all of that space) right now and we're optimistic that in the next 45 days we'll be fully leased," Mr. Minskoff told Commercial Observer today. 
Mr. Minskoff declined to verify asking rents for the two floors (or for the building in general), citing confidentiality agreements, but Claren Road Asset Management, a money manager and subsidiary of The Carlyle Group, reportedly paid $118 per square foot for a deal cut just this month covering 25,401 square feet across the 400,000-square-foot building's top floor.  
After months of inactivity online auctioneer 1stdibs signed a 15-year lease for the entire 42,232-square-foot third floor of the building in October of last year, kicking off the barrage of leases that in January landed IBM Watson Group, which took 120,000 square feet and reportedly beat out Twitter as the building's anchor tenant. 
In December of last year St. John's University also signed a 71,000-square-foot lease for the building's first and second floors, and part of its concourse level; and MailOnline, the website of British tabloid the Daily Mail, took 25,401 square feet at reported rents in the high-$90s per square foot this February. 
"It's a great property and one of the best, architecturally, to go up in New York in a long time and it's one that I'm very proud of, having built almost 40 million square feet around the country," Mr. Minskoff said. "It's not by any means one of the largest but it sure is a cool building and I think it's changed  that whole neighborhood."   
An earlier prediction that the building would be fully leased by the end of January wasn't quite realized, but Mr. Minskoff noted that progress at the building has nevertheless defied expectations. 
"It's leasing up more successfully than most people had ever anticipated," he said. 
Jones Lang LaSalle brokers Peter Riguardi, Paul Glickman, Mitch Konsker and Cynthia Wasserberger have represented Mr. Minskoff at the property along with in-house broker Jeffrey Sussman, a vice-president at Edward J. Minskoff Equities. 
1stdibs
,
51 Astor Place
,
Claren Road Asset Management
,
Cynthia Wasserberger
,
Daily Mail
,
Edward J. Minskoff Equities
,
Edward Minskoff
,
IBM Watson
,
IBM Watson Group
,
Jones Lang LaSalle
,
MailOnline
,
Mitch Konsker
,
Paul Glickman
,
Peter Riguardi
,
St. John's University
,
The Carlyle Group
,
Twitter