ABS Launches Art Project at 915 Broadway
---
---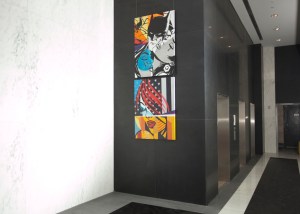 ABS Partners Real Estate has kicked off a curated, rotating pop art program for the lobbies of its commercial buildings, Commercial Observer has learned.
First up was last week's installation of two large cartoon paintings by Bronx-based new generation artist Sen2 at 915 Broadway, said Gregg Schenker, co-managing partner and president of ABS. The art was put in following a $1.5 million investment in the Specter DeSouza Architects-designed lobby at the 21st Street building.
"The art is to make it more interesting for the tenants and the visitors," Mr. Schenker said.
The next two buildings set to have art installments are 1001 Avenue of the Americas at 37th Street and 29 West 38th Street between Fifth and Sixth Avenues. The former will feature pop sculptures—three really bright-colored lollipops and an oversized upside-down melting ice cream cone—from  artist Desire Obtain Cherish (DOC) and the latter will showcase an abstract painting, called Electrocat, by graffiti artist Angel Ortiz (now known as LA Roc or LA II), protégé to Keith Haring.
ABS leases the art and the pieces will be rotated on a six-month cycle by a consulting curator, said Cindy Glanzrock, who is the president and owner of full-service real estate consultancy and brokerage Glanzrock Realty Services. ABS is the first of Ms. Glanzrock's clients in her newly launched Building Art Curatorial Program (BACP), a program designed to connect artists and spaces, tailored to specific buildings.
"BACP selects relevant artwork for commercial lobbies that is reflective of the respective building's history, location and provenance, dramatically enriching the experience of both the tenant and visitor, as well as increasing the building's value," Ms. Glanzrock said. "We anticipate that BACP will encourage more commercial buildings to become involved."
Ms. Glanzrock said she worked closely with the Specter DeSouza Architects in selecting the pieces at 915 Broadway.
The art is available for purchase, Ms. Glanzrock noted, with prices ranging from $6,500 to $38,000.
1001 Avenue of the Americas
,
29 West 38th Street
,
915 Broadway
,
Angel Ortiz
,
Cindy Glanzrock
,
Design Obtain Cherish
,
DOC
,
Glanzrock Realty Services
,
Gregg Schenker
,
Keith Haring
,
LA II
,
LA Roc
,
Sen2
,
Specter DeSouza Architects
,
ABS Partners Real Estate