Trio of Leases Signed in as Many Months at Masonic Hall
---
---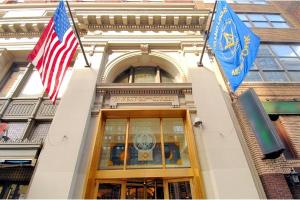 Masonic Hall in the Chelsea-Flatiron area will soon be home to three new commercial tenants, Commercial Observer has learned, as the landlord's broker, City Connections Realty, brokered three deals at the historic building within a three-month period.
"It's pretty aggressive in terms of timing, especially in our neighborhood, in terms of closing deals," said City Connections Realty's commercial manager Herb Goldberg, who along with the company's founder and president, David Schlamm, represented the landlord, the Trustees of the Masonic Hall and Home, in all of the transactions. "The building is really highly desirable. It [has an] old-world charm. It's the only building owned by this chapter of the masons and it's really treated with kid gloves. Because it's their home they include cleaning in the overall rental." Cleaning costs, he noted, can run from $1.75 to $2.50 a foot.
Nonprofit Help/PSI, which attends to the needs of adults with HIV/AIDS and substance abuse issues, took 13,000 square feet at Masonic Hall, at 71 West 23rd Street, for its executive, financial and administrative operations. Yvonne Chang, an agent at the Kaufman Organization, represented Help/PSI. The asking rent in the February 1 deal was $56 per square foot and the lease is for 10 years.
Software technology platform Turn signed a 10-year lease for 26,000 square feet in the building. The asking rent was $58 per square foot. Lance Weitz, principal broker at JFW Realty, represented the tenant in the deal, which closed January 15.
Finally, in December, yoga center Yoga Shanti leased the 2,750-square-foot ground-floor commercial space on the 24th Street side for a 10-year period. The asking rent was $58 per square foot. This is the company's first studio in Manhattan. Ariel Levy of the Wings Group represented the tenant. 
Built in 1912, the 243,200-square-foot building spans the entire corner of Avenue of the Americas from 23rd to 24th Streets. The building contains office space, banquet and meeting rooms, commercial space and many rooms used for Masonic purposes, including the two-story Grand Lodge with a custom organ and a plush and elaborate décor, City Connections noted. The ballroom of the Titanic was modeled after this space. The building is open for tours.
71 West 23rd Street
,
Ariel Levy
,
City Connections Realty
,
David Schlamm
,
Help/PSI
,
Herb Goldberg
,
JFW Realty
,
Kaufman Organization
,
Lance Weitz
,
Masonic Hall
,
Titanic
,
Trustees of the Masonic Hall and Home
,
Turn
,
Wings Group
,
Yoga Shanti
,
Yvonne Chang