As Cornell begins to rise on Roosevelt Island, tech industry ponders future
---
---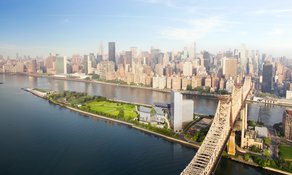 Even as the construction process commences on a marquee Roosevelt Island technology project, some tech companies are uncertain about how the industry will fare now that Mayor Michael Bloomberg, a staunch advocate for tech, is out of office. 
As Cornell NYC Tech, the engineering school slated for Roosevelt Island, makes its way through the development process and the city welcomes a new administration, it prompts a question: Will the sustainable applied science and engineering campus—and tech in general—get the same level of attention from Mayor Bill de Blasio as it did from his predecessor, Mr. Bloomberg?
Some fear that it will be hard for Mr. de Blasio to match the support and enthusiasm of Mr. Bloomberg. Regarding Cornell NYC Tech, "it's the type of situation where the plan was enacted well before he came into power," said David Eisenberg, the founder and CEO of Floored, a software company for 3-D visualization of real estate. "The only fear that exists is that the plan won't be executed as Mayor Bloomberg mapped it out. I have no reason to think he won't, but … that is a subject that is on many CEO's [chief executive officers'] minds."
One real estate tech adviser is more sanguine and said not to worry about Cornell NYC Tech.
"It's far advanced enough in the pipeline that it will become reality," said Ashkan Zandieh, a broker with ABS Partners Real Estate who specializes in real estate tech advising. "It's hard to derail this." Moreover, he said, "Even if [Mayor Bill] de Blasio did nothing with tech, it will still flourish. It's too much of a growing beast. If tech were going to fail, half of these co-working spaces would be half-empty, and they're not. 
Mr. De Blasio plans to continue where Mr. Bloomberg left off, Mashable reported, by "building campuses around the city that are dedicated to science and technology, such as Cornell NYC on Roosevelt Island and NYU Center for Urban Science and Progress in Downtown Brooklyn. He hopes to expand tech campuses into the outer boroughs, start a tech scholarship with the City University of New York and create an 'office of talent acquisition' that would help identify youngsters fresh out of school who might excel in the start-up community."
Most imminently, last month, less than two weeks after community board members spoke out against revised plans for the first academic building at the Cornell NYC Tech campus, the school commenced the construction process of the project with deployment of the largest volunteer barging in the city. 
Then, last week, the school got a major boost from the Dyson Foundation, which provides grants, promotes philanthropy and helps nonprofits, in the form of a $5 million gift for a new master of business administration program. 
Cornell NYC Tech will be a 2-million-square-foot build-out housing approximately 2,000 full-time graduate students and nearly 280 faculty and researchers when it reaches full capacity in 2043, six years after completion of construction. The river-to-river campus promises expansive views and green, public spaces. It will cost Cornell University $2 billion, including $100 million allocated by Mr. Bloomberg.
Phase one of the genius school campus, slated for completion in 2017, will include a 150,000-square-foot academic building, a student dormitory, an executive building with hotel and corporate co-location and a "whole open space network," said Andrew Winters, the director of capital projects and planning for Cornell NYC Tech. The emphasis of the whole design is on openness and transparency. The buildings will feature glass on their ground floors. There will be no walls or gates around the campus, to which there will be multiple access points. 
Cornell NYC Tech "will be an important piece of the [tech] community," said Karl Baum, the chief technology officer at View the Space, a leasing platform for commercial real estate brokers.
But, the tech boom in New York City has gained so much momentum in the last 10 to 15 years that the city's leadership won't be a factor.
"I tend to believe that the amazing tech community that's happening in New York City would have happened without [Mr.] Bloomberg," Mr. Baum said. "I don't think with a different mayor it wouldn't [have grown] here."
Cornell NYC Tech is subject to a design review by the Public Design Commission, which is required to approve "permanent works of art, architecture and landscape architecture proposed on or over city-owned property," according to its mission statement, and that involves getting feedback from the local community board.
On Jan. 9, at a meeting with Cornell NYC Tech, the Roosevelt Island Committee of Community Board 8, which covers the Upper East Side and Roosevelt Island, took issue with some of the aesthetic aspects of the academic building designed by Thom Mayne of Morphosis Architects. While boards are advisory in nature, they are powerful and often are successful in resolving issues they tackle.
It was "not a problem with the project itself," said Larry Parnes, the Community Board 8 Roosevelt Island Committee co-chair, who noted that the board supports the overall project. "It was with design issues." 
The committee drafted a resolution about the glassy plan's tree removal process and about inadequate audio induction looping for the hearing impaired. The full board postponed voting on the resolution until the Feb. 12 community board meeting, when the school will return with responses to the committee's concerns.
On Jan. 15, the board voted to approve another resolution calling for a modification of the facade of the Central Utilities Plant "to provide more interest and lighter color" and so "that all service access to the building is off street."
Mr. Winters told Commercial Observer that Cornell NYC Tech is actually adding more trees than it is removing and the ones it is removing will make the roads wider so they are Fire Department of New York-compliant. He concurred about the color needing to be lighter. And the school intends to provide enhanced audio in its bathrooms, assembly rooms, main lecture hall and café and any large meeting room using amplified sound.
Coler-Goldwater Specialty Hospital & Nursing Facility, a 2,000-bed facility specializing in clinical, nursing and rehabilitative care, is being demolished to make way for Cornell NYC Tech. Patients and services will be relocated. 
The first of the barges arrived at Roosevelt Island on Jan. 21, marking the beginning of the construction phase. One barge with a crane is moored, and another transported materials to the island. This is likely the largest voluntary barging project in the city, Mr. Winters said, and is being done to minimize inconveniencing residents who have one main road through Roosevelt Island.
The demolition will begin with the interior (doors, partitions, ceilings, etc.), and the whole job is expected to be completed in December, Mr. Winters said.
Mr. Bloomberg was a vocal proponent of Cornell NYC Tech as part of a larger effort to grow technology-related jobs and businesses in the city.
In December, a month before Mr. Bloomberg stepped down after three terms as mayor of New York , the city and Cornell Tech formally executed a 99-year lease for the 12-acre site on the southern end of Roosevelt Island. That came two years to the day after a Cornell University and Technion-Israel Institute of Technology partnership was named the first winner of the city's Applied Sciences NYC competition, an initiative that seeks to increase the building or expansion of world-class applied sciences and engineering campuses in New York City.
At the time of the property transfer, Mr. Bloomberg said: "Our goal has been to make New York City the global capital of technological innovation, and this new campus on Roosevelt Island is a central part of our strategy for achieving it. It is one of the most ambitious and forward-looking economic development projects any city has ever undertaken, and it's going to help add thousands of new jobs to our economy in the decades ahead."
It was not immediately clear how much of a focus Cornell NYC Tech would be with the current administration. 
Mr. de Blasio did, however, champion Mr. Bloomberg for establishing Cornell NYC Tech.
"I want to commend my predecessor, Michael Bloomberg, for what he achieved with the Applied Sciences Center," Mr. de Blasio said at a gathering of the American Israel Public Affairs Committee at the Hilton in Manhattan on Jan. 23, according to Capital New York, which obtained a recording of his speech.
Mr. de Blasio did not respond to requests for comment.
Last March, when Mayor de Blasio was the city's public advocate, one of his representatives voted in his absence against the necessary zoning change to make Cornell NYC Tech possible, the Daily News said, because it could be disruptive to the residents. His office later said he disagreed with the vote of the appointee, Michelle de la Uz. The area was zoned for a hospital and changed to allow a college campus and commercial and hotel space. Mr. De Blasio told Commercial Observer's Wired City blog several months later, when he was also running for the mayor's office: "I proudly supported the Cornell Tech campus, but there's much more we can do. This starts with making New York more affordable for tech start-ups and helping connect these firms to the talent and capital they need to succeed."
The phase one Cornell NYC Tech campus master plan was designed by Skidmore, Owings & Merrill, and James Corner Field Operations is handling the landscape architecture. Forest City Ratner is the master developer. The 200,000-square-foot corporate co-location building, developed by Forest City Ratner, will combine academics with start-up and established companies in a building filled with rotating space and flexible, open-floor plans. A full 50,000 square feet will be put aside for Cornell NYC Tech to lease.  
Cornell NYC Tech has garnered interest from potential tenants, but Mr. Winters wouldn't mention specific tenants or the types of users. 
The residential building, being designed by Handel Architects, will be built by the Hudson Companies and Related Companies. It will have apartments for about 350 students, staff and faculty, as well as amenities including a gym, lounge and roof deck. Construction of this building is expected in 2015.
While the demolition only begins this week, classes at Cornell NYC Tech began in January 2013 in a 22,000-square-foot temporary space donated by Google in the Internet services company's building at 111 Eighth Avenue. In the fall, the genius school is launching a dual-degree program focusing on connective media. 
Meanwhile, Mayor de Blasio's attitude toward Cornell NYC Tech could serve as an indicator of his overall position on tech in the city.
"It would need to be a core part of his plan that tech will be an engine for job growth and broader economic growth for the city," Mr. Eisenberg of Floored said. "It has not been obvious that that's the case."
111 eighth avenue
,
ABS Partners Real Estate
,
American Israel Public Affairs Committee
,
Andrew Winters
,
Ashkan Zandieh
,
Bill de Blasio
,
City University of New York
,
Coler-Goldwater Specialty Hospital & Nursing Facility
,
Community Board 8
,
Cornell NYC Tech
,
Cornell University
,
David Eisenberg
,
Dyson Foundation
,
Fire Department of New York
,
Floored
,
Forest City Ratner Companies
,
Google
,
Hilton
,
James Corner Field Operations
,
Karl Baum
,
Larry Parnes
,
Michael Bloomberg
,
Morphosis Architects
,
NYU Center for Urban Science and Progress
,
Owings & Merrill
,
Public Design Commission
,
Skidmore
,
Technion-Israel Institute of Technology
,
Thom Mayne
,
View the Space