Report: Biggest Three Commercial Sales of 2013 All Top $1B
---
---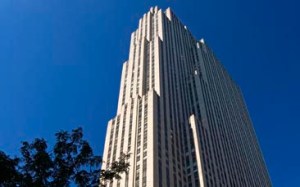 There were three whopping commercial deals in New York City last year in the trillion-dollar price range, blowing away the other commercial transactions for the year in terms of price, according to a report by PropertyShark provided exclusively to Commercial Observer.
The priciest deal was Comcast's $1.3 billion purchase of 1.3 million square feet of office and studio space at 30 Rockefeller Plaza, part of the media and communications giant's $16.7 billion purchase of a 49 percent stake in NBCUniversal from General Electric.
Second was the Carlyle Group's sale of the 27-story office and retail tower at 650 Madison Avenue to Crown Acquisitions and Highgate for roughly $1.3 billion. The purchase of the 600,000-square-foot building was the largest in the U.S. after Google (GOOGL)'s acquisition of 111 Eighth Avenue from Taconic Investment Partners in 2010.
Third was at 550 Madison Avenue. Sony sold its U.S. headquarters at the building to the Chetrit Group for $1.1 billion. In an email to Sony employees, Nicole Seligman, president of Sony Corp. of America, said that 550 Madison Avenue had "considerable value locked in it" due to its location and its architectural provenance. It was designed by Philip Johnson.
The other seven biggest transactions for the year were under the $1 billion mark, with prices ranging from $498.45 million to $876.78 million.
The commercial sales market has been thriving since 2009 with 4,517 deals in 2013, up 2 percent year-over-year, and sales volume of $46.23 trillion, up 29 percent from 2012.
In the over-$50 million category, the number of transactions rose 207 percent to 46 deals in fourth-quarter 2013 versus 15 in the third quarter, but dropped 18 percent year-over-year. Meanwhile, the number of overall transactions increased a marginal 3 percent to 1,231 deals versus the quarter prior and dropped 22 percent compared with fourth-quarter 2012.
111
,
30 Rockefeller plaza
,
550 Madison Avenue
,
650 Madison Avenue
,
Comcast
,
Crown Acquisitions
,
General Electric
,
Highgate
,
NBCUniversal
,
Nicole Seligman
,
Philip Johnson
,
Sony
,
Sony Corp. of America
,
The Carlyle Group
,
Chetrit Group
,
Google
,
Taconic Partners