New Orthodontics Practice Leases Space in Harlem
---
---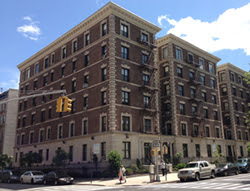 A Harlem prewar residential condominium near Central Park will be the home of a new orthodontics practice.
Central Park North Orthodontics, will be setting up an office on the ground floor at 1851 Adam Clayton Powell Jr. Boulevard, between 112th and 113th Streets.
"These offices are on a historic boulevard at the cusp of Harlem and the Upper West Side," said Faith Hope Consolo, a broker at Douglas Elliman, who represented the landlord, Tahl Propp Equities, in a statement. She worked along with Douglas Elliman's  Joseph Aquino, executive vice president of the retail group, and agent Arthur Maglio. "A practice like this will make an important addition to the neighborhood and should be able to quickly attract a loyal patient base." A turn-key business services provider, Masserano Real Estate and Consulting, consulted the tenant in the transaction.
Central Park North Orthodontics leased the vacant 2,570-square-foot space at $40 per square foot in a 10-year deal that closed at the end of last month. The business will move in on July 1, Ms. Consolo said.