Memorial Sloan Kettering Inks 54,000SF Sublease at 485 Lexington Avenue
---
---
Memorial Sloan Kettering Cancer Center has signed a seven-year, 54,200-square-foot sublease with EdisonLearning, Inc. at 485 Lexington Avenue, Commercial Observer has learned.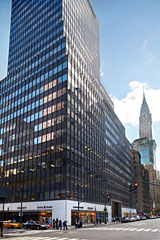 MSKCC will occupy the second floor of the building and the lease will run through the end of EdisonLearning's own sublease of the space, as EdisonLearning had subleased it from Advance Magazine Publishers for an 11-year term in 2009 after relocating from its previous offices at 521 Fifth Avenue.
While it wasn't clear what EdisonLearning's plans are going forward, sources confirmed that they have already vacated the space.
The 32-story, 921,370-square-foot office building is located in the Grand Central submarket and was built in 1956 just blocks from Grand Central Terminal and several major subway lines. Also known as Grand Central Square, owner SL Green (SLG) recently completed a major capital improvement program at the property, outfitting it with a new lobby, entryway, windows, elevators, corridors and facade.
The building's broad range of floor plate sizes (between roughly 14,000 and 56,000 square feet) have lent themselves well to sublease deals for tenants unable or unwilling to commit to longer-term leases and/or custom buildouts. In March of last year New York-based management consulting firm Novantas LLC subleased the 14,000-square-foot 22nd floor to Xerox Corporation, which already occupied substantial subleased square footage in the building after signing a lease with Citibank there the previous summer.
Mark Weiss and Rob Eisenberg of Newmark (NMRK) Grubb Knight Frank represented Memorial Sloan Kettering Cancer Center, while Mark Lauzon of Cushman & Wakefield represented Edison.
The brokers declined comment.
485 Lexington Avenue
,
521 Fifth Avenue
,
EdisonLearning
,
Grand Central Square
,
Grand Central Terminal
,
Inc.
,
Mark Lauzon
,
Mark Weiss
,
Memorial Sloan-Kettering Cancer Center
,
Novantas LLC
,
Rob Eisenberg
,
Xerox Corporation
,
Citigroup
,
Newmark
,
SL Green