Live From Orlando: It's the 2014 MBA CREF/Multifamily Housing Convention & Expo
---
---
Hello dedicated readers, industry insiders and commercial real estate junkies.
We are reaching out from the Mortgage Bankers Association's 2014 CREF/Multifamily Housing Convention & Expo in Orlando, Fla.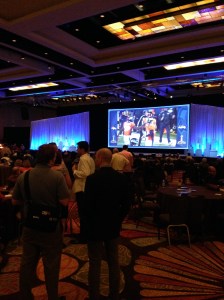 The four-day event kicked off last night at the Hyatt Regency Orlando hotel with several panels on the tumultuous FHA landscape and a lively Super Bowl party to cap off the night. (The Seattle Seahawks won their first Super Bowl title, defeating the Denver Broncos 43-8, for those who missed it.)
To come over the next few days are panels on the multifamily market, more FHA-related trends, bank and life insurance portfolio lending, and what forecasters expect from the critical CMBS market as 2014 rolls on.
"The interesting thing about the mortgage finance industry is that we go through a lot of cycles and the cycle is pretty positive right now for multifamily and commercial lending," MBA President and CEO David Stevens told Mortgage Observer a few days prior to the event. "I expect this to be a fairly upbeat conference, but there's also a lot of anticipation around what's happening on the regulatory front in Washington."
Last year's conference in San Diego drew a headcount of just over 2,600 people, while this year's headcount is expected to reach or exceed 2,800, Mr. Stevens said.
Some of the notable speakers and attendees at this year's event include former Florida Governor Jeb Bush, Fannie Mae (FNMA) Senior Vice President and Head of Multifamily Jeffery Hayward, Freddie Mac (FMCC) Senior Vice President and Head of Multifamily David Brickman, and MetLife Senior Managing Director Robert Merck, who oversees the company's real estate debt and equity businesses.
Mortgage Observer will be covering two of the panels that take place today: "The Commercial Real Estate Debt Landscape" session at 10:15 am, and a session hosted by Bethesda, Md.-based mortgage company Walker & Dunlop at 3:30 pm. Click one of the links below to read our past coverage on Walker & Dunlop, the No. 1 Fannie Mae DUS lender and the No. 5 Freddie Mac seller-servicer, according to 2012 agency and MBA rankings.
We will be reporting some of the highlights of this year's event on Twitter at @mortgage_nyo
Please let us know by email, online comment and Twitter or in-person what you would like to hear more about during and after the convention.
dghigliotty@observer.com
2014 CREF/Multifamily Housing Convention & Expo
,
david brickman
,
David Stevens
,
Hyatt Regency Orlando
,
Jeb Bush
,
Jeffery Hayward
,
MetLife
,
Mortgage Bankers Association
,
Robert Merck
,
Walker & Dunlop
,
Fannie Mae
,
Freddie Mac