Are Winter Storms Disrupting Real Estate Business in NYC? [Updated]
---
---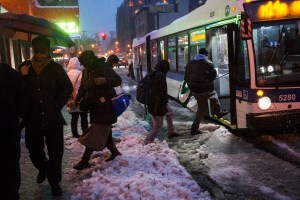 It has been just brutal outside, a mess of snow, sleet, rain, ice and slush requiring acrobatic skills to jump from snow mound to snow mound.
While surfaces are icy, subway service has been interrupted, states of emergency have been declared and people are cold, has the wintry mix impacted the business of real estate in New York City?
Commercial Observer checked in with some real estate folks to find out. 
Peter Braus, managing principal at Lee & Associates NYC
I don't think winter has affected the market for real estate, but it's certainly taken a toll on people's bottom lines, as maintenance and repair costs have far exceeded those in a typical year.  Retail sales are also very negatively impacted, and there may be some store failures that result, which will impact cash flow.
Faith Hope Consolo, retail broker at Douglas Elliman
Some visitors may have been delayed in site visits, but overall business is getting done as usual. Technology today allows you to communicate instantaneously, regardless of the weather.
James Famularo, senior director at Eastern Consolidated
The winter snow storms definitely slow everything down. Clients cancel meetings. They're not as enthusiastic about space when it's dark and dreary out. This is why we look forward to the springtime!
Peter Turchin, executive vice president of the agency group at CBRE
We're finding the market as active over the last couple of cold months as it's been. What happens is it does have an impact for touring of space. To the extent that people can't commute in, you can't have space tours. A lot of people are in the office. We're a little more casually dressed than usual. Me personally today, I had three space tours scheduled and they all happened. On a tour, all that happens is people show up in boots instead of shoes.
David Von Spreckelsen, president of Toll Brothers City Living
There is still so much more demand than supply in the condo market—and our building are so appealing to people—that we are not seeing people cancel appointments due to weather unless conditions are so bad that it is dangerous to be walking or driving.
Joseph Harbert, president of the eastern region for Colliers International
The weather is actually making people more productive. The dealmakers work from home, don't have to travel and they are just as effective on a one- or two-day weather situation. For those who absolutely need to be in the office it is so much worse because of travel delays.
Update: This story has been edited to include remarks from Joseph Harbert, president of the eastern region for Colliers International.
CBRE
,
Colliers International
,
David Von Spreckelsen
,
Douglas Elliman
,
Eastern Consolidated
,
Faith Hope Consolo
,
James Famularo
,
Joseph Harbert
,
Lee & Associates NYC
,
Peter Braus
,
peter turchin
,
Toll Brothers City Living