Revealed: Images, Prices of Retail Space Next to Whitney
---
---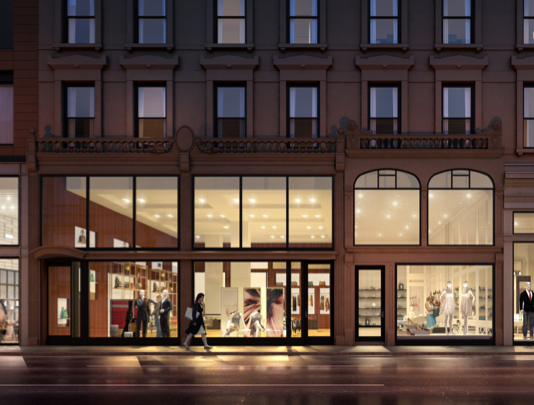 Renderings have been unveiled for a roughly 14,000-square-foot Madison Avenue retail space next to the Whitney Museum of American Art.
The project, still under construction at 935 Madison Avenue, is part of a renovation of a historical 1876 property on 74th Street. The retail portion includes roughly 7,200 square feet on ground floor and 7,100 on the lower level, said Isaacs & Co.'s Joel Isaacs, who is marketing the retail space with colleague Josh Lewin. It will have over 100 feet of frontage on Madison Avenue.
The whole project is being developed by real estate investor and health care entrepreneur Daniel E. Straus.
Each of the ground-floor spaces will have a lower-level space which can be used for selling and storage, Mr. Isaacs said. On the ground floor, asking retail rents are $1,200 a foot on the corner and $1,000 a foot inline and on the lower level they are $50 a foot, he said. Ceiling heights can reach 18 feet on the ground floor and 10 feet on the lower level.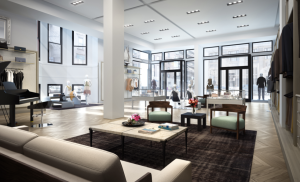 The area is expected to generate more foot traffic after the Metropolitan Museum of Art takes event and exhibition space at the Whitney's Marcel Breuer building, at 945 Madison Avenue next year.
Mr. Isaacs said there has been considerable interest in the retail space.
"We are talking to a broad range of high-end brands," he said.
Upstairs, 10 new residential units, with an address of 33 East 74th Street, are under construction. Home prices will range from about $15 million to in excess of $30 million, a spokesperson for the project said. Douglas Elliman's Katherine Gauthier and Karen Mansour are marketing the residential space.
The whole project will be completed early next year, but Mr. Isaacs said retail leases could be signed as early as the Spring and the spaces delivered to tenants in fourth-quarter 2014.
33 East 74th Street
,
935 Madison Avenue
,
945 Madison Avenue
,
Daniel E. Straus
,
Douglas Elliman
,
Isaacs & Co.
,
Joel Isaacs
,
Karen Mansour
,
Katherine Gauthier
,
Marcel Breuer
,
Metropolitan Museum of Art
,
Whitney Museum of American Art