WeWork Opens Midtown South Location
---
---
WeWork (WE) continues its expansion with a new lease in Midtown South. 
The office space provider for tech and new media companies will open a 63,300-square-foot office spanning the eighth, ninth, and tenth floors of Meringoff Properties-owned 401 Park Avenue South. The office marks the first in Midtown South, adding to its portfolio of places throughout the downtown area.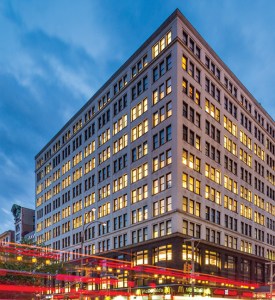 "WeWork has been actively searching for the right opportunity for our business in Midtown South; after touring 401 Park Avenue South we immediately knew we had found it," said Mark Lapidus, director of real estate at WeWork, in a statement.  "The high ceilings, efficient wide-open floors, and great natural light fit exactly the aesthetic we were looking for and will enable us to create the culture that defines the WeWork brand."
Mark Lapidus worked alongside Derrick Ades, Barry Finkelman, and Patrick Nelson of CBRE (CBRE) in representing the tenant. A team of in-house brokers consisting of Farrel Virga, Mark Stein, and Jason Vacke represented the landlord. Asking rents for the property were requested at $62 per square foot.
WeWork has taken New York by storm in recent years. Within its first year of operations, the company grew to include offices in Midtown South, Soho, and the Meatpacking District. The firm then took 75,000-square-feet in Hudson Square, bringing its presence to upward of 200,000-square-feet. 
Those figures are overshadowed by the recent ventures of the firm. Just a few months ago, the company took 120,000-square-foot at 222 Broadway and an 86,000-square-foot space at 25 Broadway, showing strength to the rise of tech and new media companies in the Lower Manhattan market. The Commercial Observer also noted that WeWork is on the verge of a 300,000-square-foot deal at 110 Wall Street.