'The Launcher' is Alive at Brookfield's Manhattan West
---
---
Ladies and gentlemen, meet "The Launcher," a giant yellow machine that is currently hard at work constructing a prefabricated platform upon which Brookfield Development's Manhattan West project will rise.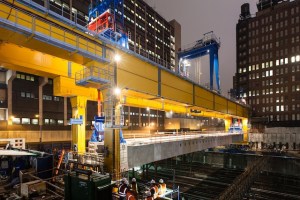 The pictures contained herein, sent exclusively to Commercial Observer, show the custom-designed mechanical marvel that so far has completed one of 16 precast concrete bridge panels that will form an expansive deck 65 feet above the uncovered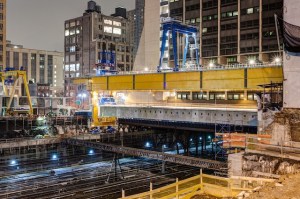 Amtrak tracks leading in and out of Penn Station. 
The process, outlined in a video on Brookfield's website, shows how The Launcher will place 56-ton precast concrete segments constituting the bridges incrementally on a temporary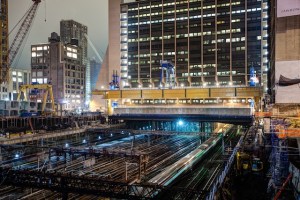 platform.
The segments will be joined and locked together on the platform to form the bridge panels (or spans), which The Launcher will lay laterally over the tracks to form the deck. 
The deck will serve as the foundation for the 5.4-million-square-foot Manhattan West project, which will span 5 acres between West 33rd and West 31st Streets to the north and south, and Ninth and Dyer Avenues to the east and west.
The mixed-use development will feature two office towers soaring as high as 62 stories, a 1.5-acre outdoor area and a residential tower.
The deck is slated for completion this year and Brookfield plans to begin construction on the residential component of the project next year.