Stephen Ross' West Side Story
---
---
Time Warner Inc. was rumored to be eyeing space at Hudson Yards as early as last spring, but only this month did the company confirm it would anchor Related Companies' 30 Hudson Yards, an 80-story tower on the Far West Side. Concurrently, Related agreed to a deal to buy back the Time Warner Center in Columbus Circle for $1.3 billion and will market space there for the first time since the building came online a decade ago. The complex deals, which include a significant financial commitment to Hudson Yards by Time Warner, are vital for the ambitious development and another victory for Related Chairman Stephen Ross, who has long championed the viability of his plans for the once-barren pocket of Manhattan.
Time Warner will join Coach, L'Oreal USA and SAP as the marquee tenants at Hudson Yards, where the first commercial building is set for completion next year. With a revitalized lower Manhattan competing with Hudson Yards for tenants, there's no time to celebrate. More development is on the horizon, with a 32-story apartment tower close to completion, 30 Hudson Yards slated for 2018 and 55 Hudson Yards in the pipeline. Mr. Ross spoke to The Commercial Observer last week about the significance of the Time Warner deals. The Miami Dolphins owner also revealed both his Super Bowl pick and his skepticism regarding a cold-weather game. 
The deal bringing Time Warner to Hudson Yards had been rumored for some time. Can you describe the process of bringing the company to the Far West Side?
Obviously, we know the company pretty well having built its last headquarters. We moved them from Rockefeller Center to Columbus Circle, but this time, they had a [request for proposal] and consultants, and we had to be patient enough to go through what was a long process in understanding their needs, where they wanted to be and what would best suit the company.
Was there ever a moment when it looked like it wouldn't happen?
I think in any process of this size that you go through, there's competition, and you never underestimate the competition. We're very competitive, but we felt this would be the best place for them. And because they were selling their space, we thought it made a lot of sense to buy it and dovetail the occupancy dates to work together. We have a lot of faith in the Time Warner Center, and we were very happy to purchase back their space. They made a great deal when we sold it to them originally.
This is the second time you've done a significant deal with Time Warner, which is a rare double feat. Can you speak to that relationship?
We were dealing with totally different people this time. We dealt with [then Chief Executive Officer] Dick Parsons the first time, and this time it was a different administration. They look at life differently, but both had a lot of foresight. Dick saw that Time Warner was just one tenant at Rockefeller Center and they could showcase their company by being in Columbus Circle and getting in on the ground floor. 
[Time Warner Chief Executive and Chairman] Jeff Bewkes saw that business has changed, how businesses operate, how businesses use space and how companies relate to each other. He had the foresight to look ahead and see where trends are today and realized it would be much cheaper to relocate rather than redevelop their offices. He also saw our vision and the ability to attract the young tech demographic as opposed to the old existing way of doing business. His charge is keeping them in the forefront. 
What is the significance of securing Time Warner in terms of the broader development process?
Right now, we have under construction and will open next year the first building with Coach, L'Oreal and SAP. Construction is well underway, and the building will open next year. We always believed we would start this year with 30 Hudson Yards, and we were speaking with a number of potential tenants, but once it became clear that Time Warner was moving ahead, we focused on that. Doing that deal allows us to do the entire eastern yards and move forward with the retail component, the cultural center and our residential developments.
You've secured a number of high-profile office tenants for the Hudson Yards development. Do you feel a sense of accomplishment or even vindication?
I always believed what I was saying, and I believed that we were able to communicate our vision of where the city was going. With these tenants signing on and the mixed-use nature of the project, the project has expanded. We have another residential building under construction, and we hope to start 55 Hudson Yards, which is another 1.35-million-square-foot building. We are negotiating with several tenants for that.
People will wake up and see the city has made a dramatic movement to the west. It will be a new city within New York City. There is a shifting of gravity in terms of where the center is. Chelsea has been the area of choice for young people—it's where we get the highest rents for our residential buildings today—and by connecting to the High Line, there will be an expansion of that.
Related has partnered with the sovereign wealth funds of Abu Dhabi and Singapore to acquire the office space at the Time Warner Center. Since sovereign wealth funds have shown an increased appetite for U.S. property deals, was that a sector of the market you targeted to help close the deal?
We've been in the Middle East and around the world talking to funds. We have to look at sourcing equity on a global basis, and I think people today are attracted to that because of our reputation and the projects we are developing. We've done business with sovereign wealth funds in the past and will continue to do so. 
For the first time since you built the Time Warner Center, space will be made available to outside tenants. The Columbus Circle area has been transformed since the building came online in 2004. Can you describe what the opportunity there will be for potential tenants?
This building is the next great landmark that has been built in the city. It holds its own with any building in New York. We think it's a great building for corporations or service firms to occupy in a preeminent location. Not everyone will go downtown, so it's about satisfying the tastes of different people. The space here in the building will be the equivalent to a new building. It has never been open to tenants and has never really been on the market. There is every redundancy and amenity that you would find in a new building.
Switching gears, who is your pick to win the Super Bowl?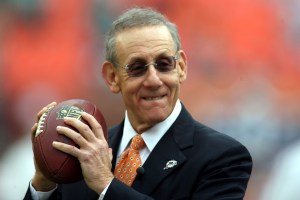 Being an [American Football Conference] owner, I have to go with the Broncos and their quarterback.
Will you be at the game?
Yes.
Do you have any concerns about the weather or logistics of a New York-area Super Bowl?
I think the game belongs in the South and, specifically, in Miami. After this weekend, I think people are going to want to be going to games in the South.