Marty Burger Officially Takes Over as CEO of Silverstein Properties
---
---
Marty Burger has been appointed as chief executive of Silverstein Properties, the company announced today, taking over sole ownership of the title he previously shared with Larry Silverstein.
Mr. Burger, who held the title of co-chief executive for two years during a period of transition, will take over responsibility of the real estate company's day-to-day operations. A veteran of the industry, the 48-year-old first joined Silverstein Properties in 2010 after stints with Goldman Sachs, Blackstone, Related and Artisan Real Estate Ventures, a firm he founded.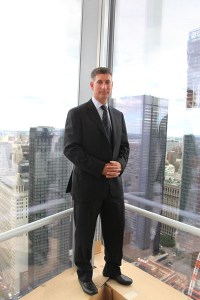 "Over the past four years, I have had the pleasure of working with Larry Silverstein and the entire Silverstein organization," Mr. Burger said in a statement. "It has been an incredible experience and I look forward to working for the company and the Silverstein family for many years to come."
Mr. Silverstein will remain involved in the company as chairman. Mr. Silverstein's resignation and CEO succession plan were first reported last year by The Wall Street Journal.
"I am delighted that Marty will lead Silverstein Properties as we continue to grow and explore exciting new possibilities throughout New York City, the nation and the world," Mr. Silverstein added in the company's statement. "Over the past four years, he has done an incredible job helping us expand our business globally."  
The announcement of Mr. Burger's appointment comes on the heels of a busy end of 2013 for Silverstein Properties. In November, the company celebrated the opening of 4 World Trade Center and a month later marked the groundbreaking of its Four Seasons Hotel and Residences in Tribeca and the signing of  anchor tenant GroupM at 3 World Trade Center.