Delays, Costs Grow for East Side Access Project
---
---
When the Metropolitan Transportation Authority reached a federal grant agreement for the East Side Access project in 2006, the agency was optimistic about running Long Island Rail Road trains to Grand Central Terminal as early as December 2013. Now, after years of delays, the project is likely to be pushed back again, according to The Wall Street Journal.
MTA officials are expected to present a new timeline to the MTA board on Monday with expectations that trains might not be running until 2021 or later. Cost projections have also increased, according to the report, to upwards of $10 billion, up from an estimated $8.24 billion as of this time last year.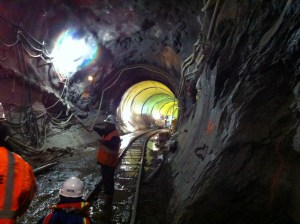 Officials told the Journal that project cost could end up less than $10 billion. The timeline is also fluid and may be shortened, according to one official.
First launched in 2001, East Side Access is designed to bring Long Island commuters roughly 11 miles from a new station in Queens' Sunnyside Yard to GCT, shaving an average 40 minutes off the trips of the majority of LIRR riders who work closer to GCT than Penn Station.
Alan Paskoff, senior vice president at the MTA's Capital Construction division, which is overseeing the project, is expected to leave the MTA in April, a source told the Journal.
An MTA spokesperson declined the Journal's requests for comment.