Waterbridge Capital Pays $37M for East Harlem Development Site
---
---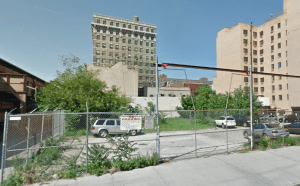 Waterbridge Capital is in contract to purchase three contiguous properties located at the southeast corner of 125th Street and Park Avenue in East Harlem for $36.8 million – across the street from Bruce Eichner's planned 80/20 residential project at 1800 Park Avenue.
The properties, at 1815 Park Avenue, 1801 Park Avenue, and 110 East 125th Street, combine for a gross buildable area of approximately 210,220 square feet, and development plans call for a mega retail center with a high-rise residential condominium.
"We were very successful in assembling a five parcel mega site with measurements that are not comparable to any other site along the 125thStreet corridor, aside from Vornado's recent sale across the street at 1800 Park Avenue," said Lenny Sporn, who represented both sides of the transaction with Ariel Tavivian and Yair Tavivian, who make up the Tavivian Sporn Team at Douglas Elliman.
Mr. Eichner's site, purchased for $65 million plus conditional brownfield credits, will include 70,000 square feet of retail space.
"We're expecting a complete change in the climate along 125th Street," Mr. Sporn said, noting the need in the area for a mega retailer in the vein of Macy's – which is rumored to be looking along 125th Street.
"This could be an amazing space for something like that," he added, though the site might incorporate everything from retail to office space, affordable housing to condominiums.
The portfolio is centrally located just by the 125th Street subway station for the 4, 5 and 6 trains as well as the 2 and 3 trains, providing both east and west side access. Also nearby are new neighborhood additions Red Rooster and Sylvia's Soul Food, along with Raymour & Flanigan and The Apollo Theater.
The deal is expected to close in the first quarter of 2014.
110 East 125th Street
,
1800 Park Avenue
,
1801 Park Avenue
,
1815 Park Avenue
,
Ariel Tavivian
,
Douglas Elliman
,
Lenny Sporn
,
Tavivian Sporn Team
,
The Apollo Theater
,
Vornado Realty Trust
,
Waterbridge Capital
,
Yair Tavivian