Red Payments Renew at 132 West 36th Street
---
---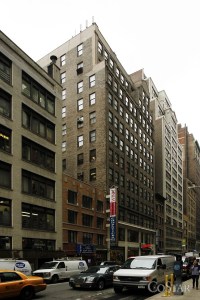 Red Payments has renewed its lease in Midtown, the Commercial Observer learned.
The merchant solutions and services firm will continue to operate out of its 16,213-square-foot office on the third floor of Kaufman Organization-owned 132 West 36th Street. The renewal extends through the next seven years.
"Red Payments is growing and was attracted to the building's open layouts and proximity to mass transportation hubs like Penn Station, Port Authority, Path and numerous MTA lines," said Barbara Raskob, leasing director at the Kaufman Organization, in a prepared statement. "The building continues to attract businesses looking for space in a central location."
Ms. Raskob represented the landlord alongside Steven Kaufman. Evan Lieberman of EVO Real Estate Group represented the tenant. Asking rent for Red Payments' office was in the high $30s per square foot.
"Extending our relationship with the Kaufman Organization was an easy decision for Red Payments," said Simon Lobanov, chief executive officer of Red Payments, in the statement. "132 West 36 Street gives us central positioning in Midtown Manhattan, affording us with the ability to recruit the best talent for our North American business operations."
The 190,000-square-foot building has consistent tenants including Susan Brady Lighting, R-Pac International Corporation, and Loyaltex Apparel USA Inc. Last year, the New York Real Estate Institute renewed its 8,000-square-foot lease in the building. Benartex, a distributor of designer cotton and prints, followed taking another 8,000-square-feet. The building remains upward of 95 percent leased.