Metro-North Commuter Rail Renews, Expands at Graybar Building
---
---
The Metro-North Commuter Railroad Company has signed a 20-year, 265,903-square-foot lease at the Graybar Building at 420 Lexington Avenue, landlord SL Green said yesterday.
The tenant, a subsidiary of the Metropolitan Transit Authority, has renewed its lease for its 133,503-square-foot space across the entire 11th, 12th and partial 22nd floors. Metro-North has also expanded into an additional 132,400 square feet on the entire 10th floor and much of the second, third and fifth floors.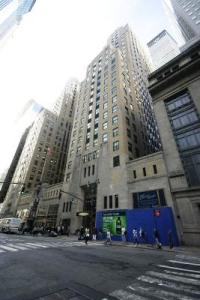 "This was an exceedingly complicated transaction, which took nearly 20 months to complete and involved a plethora of moving parts, included the participation of numerous stake-holders," said Steven Durels, executive vice president and director of leasing and real property at SL Green. "The transaction has resulted in significant asset value creation, as large areas of the expansion space had previously been underutilized for storage, mechanical or corridor use and are now leased on a full market basis as office space."
The deal necessitated assembling 34 separate spaces and relocating or recapturing 15 occupied spaces, according to the landlord's statement. SL Green will assume responsibility for construction of upgrades and the tenant's build-out.
The expansion brings occupancy at the Graybar Building, which sits above Grand Central Terminal, to over 94 percent. In addition to the Metro-North deal, the landlord has signed 73 leases at the property this year.
Earlier this year, the Municipal Art Society made 17 recommendations, including the Graybar Building, for landmark buildings ahead of Midtown East rezoning review process. Ultimately, the proposal, which may yet be revived, was scuttled by the City Council. '
Josh Kuriloff, Jodi Roberts and David Heller of Cushman & Wakefield represented Metro-North in the deal. SL Green was represented in-house.