Lipsky Goodkin & Co. Renews 10,093-SF Lease at Tower 45
---
---
The accounting firm Lipsky Goodkin & Co. renewed its 10,093-square-foot lease at 120 West 45th Street (aka Tower 45), The Commercial Observer has learned.
Scott Weiss of Studley represented the tenant. An in-house team represented the landlord, SL Green (SLG).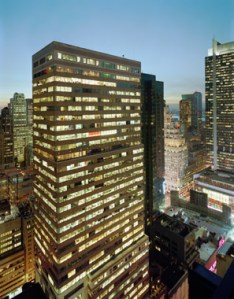 "We are delighted that Lipsky Goodkin has chosen to retain its headquarters at our building," Steven Durels, an executive vice president and director of leasing at SL Green, said in a prepared statement, "This lease follows on the heels of Proctor & Gamble Hair Care's new lease which signed last week covering 10,093-square-foot for the entire third floor of the building. Leasing momentum has been robust after our recent building-wide redevelopment."
LG&C will continue to fill the entire 7th floor of the 397,188-square-foot, 40-story office tower. Recent upgrade at the Midtown property have included the construction of an outdoor plaza complete with a water wall and light sculpture suspended above it, a new lobby and updated elevator cabs.
Those improvements certainly seem to have helped leasing activity. World Business Lenders LLC signed a 23,406-square-foot lease in the building in July. Mutual fund sponsor Aquila Management inked an 8,032-square-foot relocation deal at Tower 45 back in September.
Finally, P&G Hair Care signed a 10-year, 10,903-square-foot lease in the building late last month.