51 Astor Place Fully Leased by January 30: Edward Minskoff
---
---
In October news broke that online auctioneer 1stdibs had signed a 15-year lease for the entire 42,232-square-foot third floor at 51 Astor Place, and now Edward Minskoff says the building will be full by the end of next month.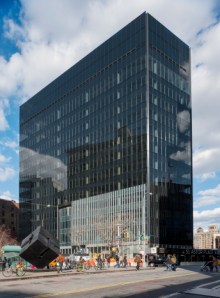 "By January 30 we'll be 100 percent leased there, and that's all I'll say," he told The Commercial Observer today, declining to give any additional details.  
Mr. Minskoff, who previously accused "media types who don't know the business" for creating the negativity surrounding the building's lack of tenants, also expressed distaste today for a Twitter feed — and  a subsequent report — that had mocked the building's vacancy. 
News of the 1stdibs deal, however, quelled negative reports, as @deathstar drifted into incoherence.
If history is indicative of his future, it would be no surprise if Mr. Minskoff, who is no stranger to spec, meets the January 30 target date.
He started construction on the sprawling, 7½-million-square-foot World Financial Center (renamed Brookfield Place), without a single tenant in contract, later securing giants like American Express, Merrill Lynch, Oppenheimer and Dow Jones as the development played out.
The LEED Gold-rated 51 Astor Place towers above the rest of the neighborhood, where a 24-hour McDonald's, Ray's Pizza and an array of small shops and restaurants harbor strong foot traffic that is accentuated by the perpetual buzz of college students.
1stdibs, relocating from its current offices at 156 5th Avenue in the Flatiron District, has grown over the last three years from a small operation employing roughly 20 people to one that now boasts well over 100, sources told The Commercial Observer, noting that a key draw to the new space, in addition to its sheer size, was its open floor plan.