SL Green, Jeff Sutton Acquire Retail Leasehold at Controversial 650 Fifth Ave
---
---
The court-appointed federal monitor and interim trustee of the controversial commercial tower at 650 Fifth Avenue has negotiated a deal for the retail space at the building.
SL Green (SLG) Realty has partnered with Jeff Sutton to acquire a 49-year leasehold interest in the retail portion of the Midtown property which has previously been linked to the Iranian government.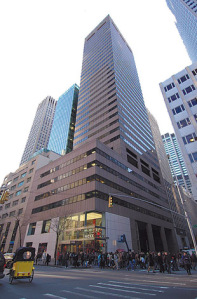 The deal includes control of the building's basement, ground-level and second and third floor retail spaces. The current retail tenant roster includes Juicy Couture, Godiva Chocolate and Devon & Blakely.
"Situated in the heart of Fifth Avenue's prime retail corridor at 52nd Street, 650 Fifth Avenue is a perfect fit for our expanding retail investment portfolio in partnership with Jeff Sutton," Andrew Matthias, president of SL Green, said in a prepared statement. "Our retail investments have proven to be a profitable complement to our core office and structured finance businesses and we will continue to seek new opportunities in New York City's best retail locations."
Financial details of the deal were not disclosed, but a court document viewed by The Wall Street Journal indicated the long-term lease would bring the building more than $30,000 a day in additional revenue, or more than $10 million per year. Retail space at nearby 666 Fifth Avenue sold for over $8,000 per square foot last year, the Journal reported.
In September, U.S. District Judge Katherine Forrest ruled that Assa Corp., Assa Co. Ltd. and the Alavi Foundation must forfeit all assets, including ownership stakes in 650 Fifth Avenue. As far back as 2008 Federal prosecutors had alleged that the respective entities were fronts for the Iranian government and were in violation of sanctions against that country.
650 Fifth Avenue
,
Alavi Foundation
,
Andrew Matthias
,
Assa Co. Ltd.
,
Assa Corp.
,
Devon & Blakely
,
Godiva Chocolatier
,
Jeff Sutton
,
Juicy Couture
,
Katherine Forrest
,
SL Green