Kynikos Associates Expands at 20 West 55th Street
---
---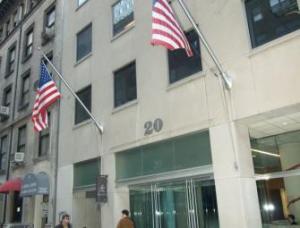 Kynikos Associates has renewed its lease at 20 West 55th Street.
Known for its early suspicion of Enron in the early 2000s, the firm will add another 10 years to its lease at the Skyline Developers-owned building. The firm will also increase its presence to encompass the entire seventh, eighth, and ninth floors for a total of 20,000 square feet.
The firm's history with the building dates back to its early years in the 1980s when it took one floor. Over the successive decades the firm grew to a second floor and now a third.
"Skyline Developers has a long-standing relationship with Kynikos," said William Cohen, executive vice president of Newmark Grubb Knight Frank, in a prepared statement. "They have grown to be the building's largest tenant. This is the result of great service and a perfect location."
"Kynikos recognized the tremendous value of renting at 20 West 55th Street, from its convenient Midtown location to its reputation for housing some of New York's most prominent businesses," Mr. Cohen added.
Mr. Cohen represented both parties in the transaction and worked alongside colleagues Ryan Kass and Andrew Weisz. The team has worked extensively over the years with tenants like LVMH, Ottinger Law Firm, BGC LLC and Glenn Horowitz Bookseller Inc.
The building remains 97 percent leased with a sliver of 3,700-square-foot space available on the second floor of the building.