Downtown Building Owners Opt for AquaFence Flood Protection
---
---
More than one year after Hurricane Sandy, the amazing recovery from the storm and rebirth of Downtown has some people viewing its touchdown in New York City almost as a blessing in disguise.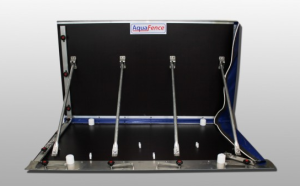 Perhaps no one more than Adam Goldberg, director of New York Operations at AquaFence, who moved into his current role at the company just one month before the storm last year.
"Sandy brought awareness to the climate change that is going on in the world," said Mr. Goldberg, who said AquaFence has not only has seen profits rise dramatically over the past year, with a long list of impressive landlords purchasing its signature flood protection system, but that the storm will be a boon for years to come.
"It gave our business a big boost, but I don't think it is future storms and damage that are going to give us a further boost. It's the threat of storms… people will feel negligent if they don't take these precautions."
Some of the city's top landlords have purchased or agreed to purchase AquaFence's flood protection panels for use at their Downtown properties, many of which experienced flooding as a result of last year's monster storm.
They include Rudin Management, where it plans to use the panels at 110 Wall Street, 1 Battery Park Plaza and 80 Pine Street in the event of a storm; RFR's 17 State Street; SL Green's 180 Maiden Lane; Pan AM Equities' 2 Water Street; Vornado's 40 Fulton Street; as well as two undisclosed jobs Mr. Goldberg said his firm is working on for the Port Authority of New York & New Jersey.
Verizon made headlines last week for the wall it is erecting, made of steel posts and aluminum planks, at 140 West Street, which was heavily damaged by Sandy, and for which the communications giant picked up a $35 million cleanup and repair tab. While Verizon did not disclose the costs, Mr. Goldberg guessed that it could be several million dollars, if not more, to protect that building using the method Verizon chose, whereas the AquaFence jobs ranged in cost between $100,000 and $600,000.
The marine-grade AquaFence panels, up to seven feet tall, which often require no structural changes to the building, can be stored until they are needed again aluminum, stainless steel and PVC using water as a stabilizer, meaning that as water rises against the wall, the system becomes stronger and less permeable, according to the company, which noted that each panel is equivalent to having 500 sand bags.
But once the storm leaves, so does the wall.
"The nice thing is that you'll never see it unless it's being used," Mr. Goldberg said.
1 Battery Park Plaza
,
110 Wall Street
,
140 West Street
,
17 State Street
,
180 Maiden Lane
,
2 Water Street
,
40 Fulton Street
,
80 Pine Street
,
Adam Goldberg
,
AquaFence
,
Hurricane Sandy
,
Pan AM Equities
,
Port Authority of New York & New Jersey
,
RFR Realty
,
Rudin Management Company
,
SL Green Realty Corp.
,
Vornado Realty Trust