CME Sells NYMEX Building to Brookfield for $200M, Will Lease Back Space
---
---
CME Group has sold the NYMEX Building at One North End Avenue to Brookfield Office Properties for $200 million.
As part of the deal, the seller will lease back 449,000 square feet of space at the building on a two-year term, according to a statement from the buyer.  After 24 months, CME Group will consolidate to approximately 220,000 square feet, including the NYMEX trading floor, on floors two through eight for a further 13 years.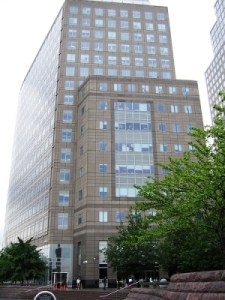 The acquisition is a logical move for Brookfield, which owns the nearby Brookfield Place office complex. The developer plans to integrate the building into the eight-building facility, according to a statement from the company. Crain's New York reported in August that Brookfield was in advanced talks to acquire the NYMEX Building.
"One North End Avenue has always unofficially been a part of Brookfield Place and the opportunity to acquire and integrate the property was compelling for us as we continue our $250 million repositioning program," said Dennis Friedrich, chief executive officer of Brookfield Office Properties, in a statement. "One North End is a highly specified office/trading building featuring a great waterfront location and which further benefits from the accelerating vitality in the area, including the introduction of new restaurants from celebrated chefs and luxury brand retail." 
CME Group announced in May it was exploring the possible sale of the building. At that time, CME Group said in the event of a sale it would lease back a portion of the building in order to continue NYMEX trading operations.
"CME Group remains committed to our floor based membership and open outcry trading services in New York, which continue to serve our customers well," said Kevin Lennon, managing director real estate at CME Group, in a separate statement.  "We are very pleased to sell the NYMEX building to Brookfield Office Properties, owners of the neighboring Brookfield Place, who will be great landlords for us and the other tenants in the building."
Constructed in 1997, the NYMEX Building was acquired by CME Group in 2008, along with the NYMEX business. CME Group had owned the building via a ground lease from the Battery Park City Authority.
Holly Duran and Jeff Mulder of Holly Duran Real Estate Partners LLC marketed the building for sale and negotiated the new lease alongside a team including James Kuhn, Jennifer Schwartzman and Neil Goldmacher of Newmark Grubb Knight Frank. 
Battery Park City Authority
,
brookfield office properties
,
Brookfield Place
,
CME Group
,
Duran Real Estate Partners
,
Holly Duran
,
James Kuhn
,
Jeff Mulder
,
Jennifer Schwartzman
,
Newmark Knight Frank
,
NYMEX Building
,
One North End Avenue