Brooklyn's City Point Lands First Office Tenant
---
---
Artist management and creative content agency Art Partner has signed a 15-year lease to occupy 10,000 square feet at the City Point in Downtown Brooklyn, becoming the development site's first office tenant.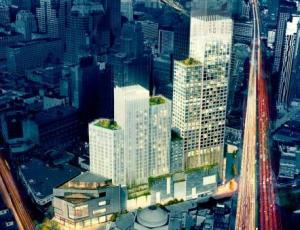 The agency, whose services include production, syndication and licensing for print, film, social media and more, plans to relocate from its Hudson Square space to occupy the new space just in time to kick off the New Year.
"It's a groundbreaking, bold move and I think it's really important to the Brooklyn neighborhood," Ken Fishel, president of Legacy Real Estate, who represented the tenant, told The Commercial Observer. "This one of the top fashion and photo representation agencies in New York and here they are moving to Brooklyn."
The company was looking to expand and redesign its space and jumped at the opportunity for a cutting edge space in the new development, Mr. Fishel said, noting that the firm has "a track record of being first" and on the "cutting edge of real estate," first hunkering down in Soho in the 80s before moving to Hudson Square over a decade ago.
"Brooklyn has become recognizable globally for its distinctive sense of art, culture and lifestyle and we are happy to join the movement in shaping Brooklyn's future," said Marianne Tesler, CEO of Art Partner, in a statement.
The agency's advertising clients include Burberry, Gucci, Louis Vuitton, Versace, Dior, Giorgio Armani, Chanel, Shiseido, Estee Lauder, Bulgari, D&G, Michael Kors, Hugo Boss, Calvin Klein, GAP, Givenchy, L'OREAL, and Zara.
The 1.3 million square-foot City Point development includes 675,000 square feet of retail and commercial space,  anchored by Century21, roughly 30,000 square feet of office space geared toward Brooklyn's creative and technology sector, 690 residences and a seven-screen Alamo Drafthouse Cinema.
Kenneth Bernstein, president and CEO of developer Acadia Realty Trust, called the project the "most exciting mixed-use property in Brooklyn."
"When we acquired this property, we knew we had an opportunity to create a truly transformative project," he said. "We are more excited every day, and we are thrilled that a company as cutting-edge as Art Partner will be part of City Point."
"The announcement of our first office tenant is an important milestone in this project, and is a testament of the creative community's faith in the future of Brooklyn," added Paul Travis, president of Washington Square Partners, developer of the retail component at City Point. "I also want to take this opportunity to emphasize our continuing commitment to work with contractors and tenants to ensure the maximum amount of local contracting and hiring."
Earlier this year the developers reacted to unionized protest and a fiery letter from the president of the Building & Construction Trades Council of New York claiming that the project would exploit the community and burns taxpayer dollars, but the cotension has since subsided.
"City Point will generate thousands of jobs and enhance Downtown Brooklyn's quality of life," a spokesperson for Acadia Realty Trust said at the time. "We are committed to maximizing local and minority contracting and employment as we create a LEED-certified development with the affordable housing, retail and entertainment options that the neighborhood well deserves."
The project's first installation, the site of the new Armani Exchange store that fueled animosity among some community residents, was built with non-union labor, as will much of the second phase, which will feature 125 affordable unites (out of the 690). City Point's developers have also pledged to rely more on minority workers than would be possible if working with a union.
Laurence Roberts, principal at Arch Brokerage, represented the landlord in the Art Partner deal.
Arch Brokerage
,
Art Partner
,
Bulgari
,
Burberry
,
Calvin Klein
,
Century21
,
Chanel
,
City Point
,
DG
,
Dior
,
Estee Lauder
,
Gap
,
Giorgio Armani
,
Givenchy
,
Gucci
,
Hugo Boss
,
Ken Fishel
,
Kenneth Bernstein
,
Legacy Real Estate
,
Louis Vuitton
,
L'Oreal
,
Marianne Tesler
,
Michael Kors
,
Paul Travis
,
Shiseido
,
Versace
,
Washington Square Partners
,
Zara