Art Storage Leader Inks 35,000 SF Deal in Bushwick
---
---
Art storage and moving company Cirker's has signed a 35,000-square-foot lease in the former Winchester Fine Arts Building at 106 Bayard Street in Greenpoint.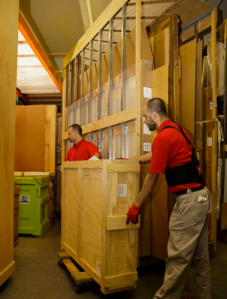 The company has another location in Midtown West, at 444 West 55th Street, and Cirker's will use the new space to launch its Brooklyn expansion.
"We were happy to work with Cirker's, a prestigious name in the art storage industry, to find a second location for the company in Brooklyn," said Neil Dolgin of Kalmon Dolgin Affiliates, which arranged the deal, in a statement.
Broker Fred Rufrano represented both the tenant and the owner, but he was not available for comment, while other brokers at the firm familiar with the deal declined comment.
Cirker's is an industry leader in the storage of fine art and other valuables, with nearly 150 years of industry experience. It stores art for collectors, galleries, auction houses, private dealers and museums.
Winchester Fine Art Services leased the building at for the last decade, a deal that was also completed by Fred Rufrano, but the company has closed and vacated the premises, making way for Cirker's.
In September Kalmon Dolgin Affiliates arranged retailer Beacon's Closet's relocation from its flagship at 88 North 11 Street, where it had been located since 2002, to a 7,500-square-foot space at 74 Guersney Street.
Earlier in the year it also represented Liberty Paper & Plastic in its relocation from their space at 481 Wythe Avenue in Williamsburg to 191 Clifton Place in Bedford-Stuyvesant; and it arranged 49-year triple net lease for a 90,000-square-foot loft at 255 Butler Street in Gowanus on behalf of a development group led by Sam Boymelgreen.