4 World Trade Opens Later this Week
---
---
Officials are reportedly planning a ribbon-cutting ceremony next Wednesday for the opening of 4 World Trade Center, which will make the 978-foot building the first to open at Ground Zero.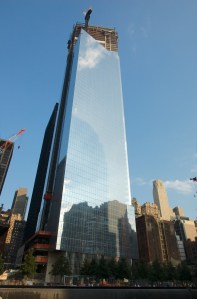 "We want people to come and experience this both as a great office building but also a sense of accomplishment that we've really turned the corner on rebuilding the World Trade Center and creating a better New York," Janno Lieber, head of construction at the site for developer Larry Silverstein told the New York Post.
Osamu Sassa, the project architect, told the Post that the building's reflective facade will "appear to disappear" on clear days.
"One of the things we really tried to do was just to create this really clean, reflective, abstract form," Mr. Sassa said. "It has a very ephemeral presence… Other times it'll be much more distinct."
The Port Authority of New York and New Jersey – which owns the site and lost its headquarters there on 9/11 – is leasing 600,000 square-feet in 4 World Trade and doesn't expect to move in until early 2015, but the opening means the agency can start building out its office space.
The trade center's Santiago Calatrava-designed transportation hub, which will host shops and restaurants on the lower floors of 4 World Trade, is slated to open in early 2015.
One World Trade Center is scheduled to open next year.