On Top of the World: Durst Organization Director of Leasing Eric Engelhardt on Leasing Up 1 WTC
---
---
In 2010, with 1 World Trade Center rising slowly in the skyline of Lower Manhattan, the Durst Organization had a problem. The developer and its ownership partners at Port Authority still hadn't secured an anchor tenant for the project.
Eric Engelhardt, who had previously sat across the table from the Port Authority pitching the case for a role in the development, was then part of Durst's acquisitions and development group, and this time was on the same side of the table as the government agency—pitching Condé Nast.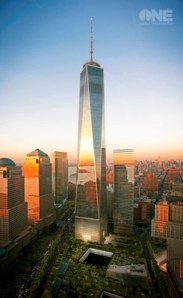 In the months preceding the negotiations, CBRE's Mary Ann Tighe and Greg Tosko had taken the publishing giant—headquartered coincidentally at Durst's 4 Times Square—out into the market to look for a new home. The power duo left no stone unturned. Eventually their search led the group to 1 World Trade Center.
"They began a conversation first with [Cushman & Wakefield's] Tara Stacom and then the group began to expand to include the Dursts, Port Authority and the Newhouse family," Mr. Engelhardt said from Durst's 1 Bryant Park headquarters, overlooking both the Empire State Building and 1 World Trade Center.
Those tense negotiations yielded a 25-year, 1-million-square-foot lease for Condé Nast, a venerable publishing house whose roster of magazines includes such well-known names as the New Yorker, Vogue and Vanity Fair. The deal, estimated to be worth around $2 billion, quickly brought credibility to a project that, until that point, had been recognizable more for its logistical sputtering than its leasing successes.
Fast forward to 2013 and Mr. Engelhardt has come full circle. After a six-month hiatus working on potential acquisition and development opportunities elsewhere in the city, Mr. Engelhardt has been appointed director of leasing at 1 World Trade Center. No small task—15 months from launch, the tower still sits 45 percent vacant, with nearly 1.5 million square feet of space available at the Downtown tower.
Having Condé Nast committed to the building, it is hoped, will help spur things along. "Condé is a trendsetter and I think it has helped to garner some interest at 1 World Trade," Mr. Engelhardt said.
Furthermore, expectations are when the fences around the construction site come down early next year and 1 World Trade Center begins to transition into the fabric of Lower Manhattan, the leasing velocity will escalate.
"The World Trade Center site has been something to look at from afar, and when those fences come down, it will no longer be something just to look at," Mr. Engelhardt said. "It will be a place people can experience and will want to be a part of."
Having already snagged a prominent media tenant, the Durst Organization is keen to tap into both the changing tenant profile Downtown and the growing residential communities in the area and in nearby Brooklyn. As the residential population in Lower Manhattan has close to doubled in the last decade and Brooklyn has emerged as a viable alternative to Manhattan, Lower Manhattan has become an attractive option for commercial tenants.
"When I first came into the industry 17 or 18 years ago, Downtown was Wall Street-centric," Mr. Engelhardt said. "People were still going to the trading floor and at 4:00 or 4:30 everyone cleared out of Dodge. Now you're seeing people who want to spend more time Downtown."
The Durst Organization has gone as far as setting aside 100,000 square feet in the tower for prebuilt and build-to-suit programs for tenants not in need of a lot of space — a reaction to a series of requests the company had been receiving.
"These two floors are floors by which Condé Nast has the right to expand on 10 years from now," Mr. Engelhardt said. "It makes a whole lot of sense to engage a smaller-scale tenant community."