New York Times Leasing Floor As Part of "Restacking" Effort
---
---
After cutting away an "extra layer" of staff earlier this year, The New York Times is reportedly leasing out a full floor at its 620 Eighth Avenue headquarters as part of an ongoing "restacking effort."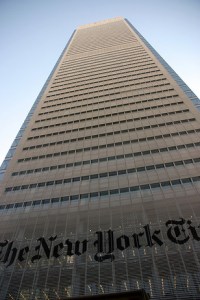 Times Co. is seeking a tenant for the tower's 30,917-square-foot 21st floor – one of seven floors it still owns in the 52-story, Renzo Piano-designed skyscraper at West 40th and 41st streets, the New York Post reported.
The move is "part of an overall restacking effort," Gregory Tosko of CBRE, who is marketing the space with Zachary Freeman, Ramneek Rikhy, Mary Ann Tighe, and Sacha Zarba, told the Post.
In addition to a column-free floor with fine views and "advanced environmental features," the Post noted that a new tenant will have access to the Times' sweeping, glass-enclosed, red-floored cafeteria, which is said to serve everything from sushi rolls to meatball subs.
The building features time-saving elevators that select the most efficient path and cab for passengers based on floor selections made from the lobby, and automated blinds upstairs rise and fall with the level of the sun.
Earlier this year, Times editor Jill Abramson told Capital New York that recent buyouts and layoffs of about 30 staffers were "painful" but necessary as part of the ongoing integration of print and digital media.
"Some of the top jobs in the newsroom we sort of could no longer afford," she told the publication at the time. "They're great people, they're incredibly talented, they're Times people to the core, they do have amazing institutional memory, but in some ways, they were editors of editors. We just had a lot of layers … that's just an extra layer that we can't afford."
In 2009, the Times sold 21 of its 28 floors to W.P. Carey & Co. and leased them back with an option to repurchase them in 2019 for $250 million, later leasing six of the floors to law firm Goodwin Procter.
During a second quarter earnings call Times' CFO Jim Follo acknowledged that the company occupied the floor but that leasing it out was an option.