Eddie Hidary, Hidrock Realty Inc.
---
---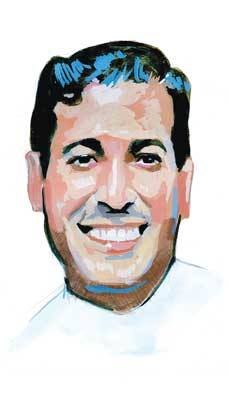 Favorite charity? 
There are so many great charities in New York, the country and worldwide. It's just too hard to choose. I try to divide my contributions and spread charity in as many directions as possible.
Real estate prediction for 2014? 
I am optimistic for the year ahead. Fundamentals remain strong, and we see continued growth in every sector for the next few years. Proper sponsorship is very important for lenders and equity partners, as it should be.
Where in New York is there still untapped potential for real estate development? 
Hudson Yards and "the new Downtown" have barely scratched the surface.
Who will become New York City's next mayor?  
I have a cousin, Jack D. Hidary, who is running for mayor. Need I say more?
What real estate policy should New York's next mayor make a priority?   
The next mayor should focus on creating more accountability within the D.O.B. and other New York City agencies. To streamline approvals, as developers, our projects are for the greater good of the city of New York.
What qualities do you look for in an agent representing your buildings? 
Knowledge and professionalism go a long way in this business. As New Yorkers, we're all fast-faced people without a lot of extra time. It's important for an agent to have all of the facts right so that we, as owners, can make smart and informed decisions.
What is one aspect of your business you wish you had more time for? 
Golf!
Greatest fear: 
Making a bad investment or not succeeding for our partner base.
If approved, the Midtown East rezoning initiative will: 
It will open up a new era in development and help New York stay on the cutting edge in the global marketplace.
In the film version of your life, which actor would portray you? 
I haven't seen a movie in two years. I can't sit in a theater for hours straight, and I'm terrible with celebrity names.
Foreign real estate market you'd most like to invest in: 
London and Israel. Aside from New York, these are my favorite places to visit.
Is broadband connectivity in New York City a priority at your buildings? 
Yes. Keeping up with technology in today's market is a top priority. Having the proper broadband available in the digital age is just as important as a state-of-the-art lobby or a clean bathroom in our buildings.
What should happen with Madison Square Garden and Penn Station? 
New Yorkers and tourists deserve an impressive entrance when they arrive into the greatest city in the world. I have traveled a lot, and a great entrance makes a great first impression. It really does a lot to showcase a city.
What New York City building should be torn down? 
Please see the question above. I support the initiatives to relocate Madison Square Garden and expand and renovate Penn Station. This would create a more modern transportation hub, giving New Yorkers and visitors the first impression this city deserves!