Construction Spending Will Eclipse Boom Years: Building Congress
---
---
The annual forecast from the New York Building Congress estimates that 2013 construction spending will eclipse the peaks of 2007.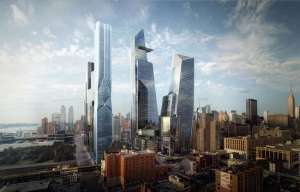 New York City Construction Outlook 2013-2015, completed with support from the New York Building Foundation and assistance from Urbanomics, estimates total construction spending will reach $31.5 billion this year, greater than the previous high of $31.1 billion recorded in 2007 and a 14 percent increase from $27.6 billion last year. The number will keep rising, to $33.4 billion in 2014 and $37 billion in 2015, the report estimates.
"New York City is once again demonstrating its remarkable resiliency," said Building Congress President Richard Anderson, in a statement announcing the results. "Just five years after the worst downturn since the Great Depression, the City's construction industry finds itself on the brink of yet another building boom."
The gains are fueled in part by a resurgent residential market, progress at major development sites, and ongoing government infrastructure projects, according to the report.
Residential construction spending doubled between 2009 and 2012 to $5.3 billion and it is expected to double again by 2015, though the production of new housing units is not keeping pace. In 2012, New York City added 11,000 units of new housing on $5.3 billion in residential spending, while in 2008, 33,000 new housing units were produced with $5.9 billion in spending.
Non-residential construction, fueled in part by the World Trade Center and Hudson Yards projects, is forecast to reach $10.3 billion in 2013, up from $8.9 billion a year ago, rising to $10.8 billion in 2014 and $13.6 billion in 2015.
The Building Congress forecasts 2.9 million square feet of office space will be in construction in seven Manhattan office towers during 2014, 2.6 million of which is located at the World Trade Center and the West Side.
"Back in 2003, government officials unveiled ambitious master plans for both the World Trade Center and Hudson Yards," said Building Congress Chairman John Dionisio, in a statement. "After a decade, those ambitious visions and upfront capital investments are paying off."
Government spending, however, forecast to increase from $13.4 billion this year to $13.7 billion in 2013, will drop to $13.5 billion in 2014 and $12.8 billion in 2015, and the Building Congress warns that the city's design and construction spending could fall to $7.5 billion in 2013, $7.2 billion in 2014 and $6.4 billion in 2015.
The Metropolitan Transportation Authority and Port Authority of New York & New Jersey is expected to hold steady throughout the forecast period, though the report cautions that there is "a fair amount of uncertainty" in the government forecast, given a new mayoral administration is underway and changes at the City Council.
"In 2009 and 2010, government projects accounted for approximately 58 percent of all construction spending, but by 2015, government work is expected to account for just 35 percent of construction spending," said Building Foundation Chairman Frank Sciame, in a statement. "While this is good news for the private sector outlook, it is troubling to see government spending so far off previous highs."
The building congress report lists several recommendations aimed at spurring additional growth. The report also notes that with inflation, 2013 spending would actually be about 15 percent below the 2007 peak in volume of work delivered. If 2015 construction spending matches the forecast of $37 billion, however, the volume of work produced, with inflation factored in, will be in line with numbers from the height of the building boom.