CBRE Named Exclusive Agent at 1407 Broadway
---
---
CBRE has been named the exclusive leasing agent at 1407 Broadway, The Commercial Observer has learned. Peter Turchin will lead the leasing team at the Lightstone Group's 1-million-square-foot Midtown office building.
In addition to naming a new leasing team, ownership will soon begin repositioning the property, including upgrading the building's lobby and retail façade—all with a view toward attracting a broader tenant base.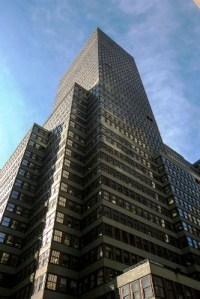 "We are beginning our construction process very soon, the changes are going to start happening over the next couple of months," Mr. Turchin told The Commercial Observer.
Traditionally dominated by smaller-scale garment industry tenants, 1407 Broadway has at times packed as many as 15 tenants on a single floor. The CBRE leasing team will be looking to change the building's profile by attracting full-floor tenants, including tech firms spilling over from Midtown South.
"We are really changing the focus of the building to a larger tenant, full-floor building," Mr. Turchin noted, adding he also anticipated larger fashion industry companies to be attracted to the building.
In an early sign of 1407 Broadway's shifting dynamic, both Galaxy Brand Holdings and Gogotech have recently inked deals at the property, on the 38th and 7th floors, respectively. Asking rent for space at the Lightstone Group building ranges from approximately $50 in the base to $70 in the tower floors.
CBRE's leasing team, which is taking over for the Kaufman Organization, will also include Amanda Bokman, Gregg Rothkin, Ben Fastenberg, Ross Zimbalist and Lee Cross.
1407 Broadway
,
Amanda Bokman
,
Ben Fastenberg
,
CBRE
,
galaxy brand holdings
,
Gogotech
,
Gregg Rothkin
,
Kaufman Organization
,
Lee Cross
,
Lightstone Group
,
peter turchin
,
Ross Zimbalist