Stempel Bennett Renews on Third Avenue
---
---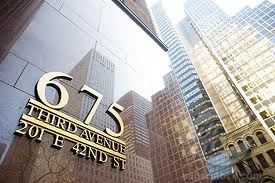 Stempel Bennett has renewed its lease on Third Avenue, the Commercial Observer has learned.
The law firm will continue to operate out of the 8,496-square-foot 22nd floor of 675 Third Avenue for another 10 years. The firm initially moved into the Durst Organization's neighboring building, 655 Third Avenue, and made the move a few stops down the block about a decade ago.
The 32-story, 341,000-square-foot building is one of several within Durst's 1.6-million-square-foot east side portfolio. The leasing activity, which hovers around 97 percent occupancy rate in the portfolio, has seen quite a bit of movement lately.
"We are seeing significant velocity in the leasing market along Third Avenue," said Tom Bow, senior vice president and director of leasing at the Durst Organization.  "Third Avenue's access to public transportation, solid value and the tightening of the Midtown South Market is making the Class A market along Third Avenue more appealing to tenants."
"I think it is interesting that activity is picking up here," said Brandyl Frey, an in-house broker at the Durst Organization. "It has a diverse tenancy of financial service firms, some creative,  and law."
Stempel Bennett is one of approximately 10 tenants that have either renewed or signed in the building. Its neighbors include Arbor Commercial Mortgage LLC, who will renew its  6,476 square-feet office and Washington Square Partners and Software Publishes Association, two firms that recently increased their foothold in the building to 2,289 and 3,487 square feet, respectively.
The total square footage across all of the deals is in the 30,000 range.
Ms. Frey was responsible for negotiating on behalf of the landlord. Stempel Bennett was represented by Newmark Grubb Knight Frank's Chris Mongeluzo.