Starwood Property Trust Leases 12,750 Square Feet at Busy 1140 Avenue of the Americas
---
---
Starwood (STWD) Property Trust Inc. inked a 12,750-square-foot deal at 1140 Avenue of the Americas in one of five direct leases at the property announced last week that totaled 44,568 square feet.
The commercial mortgage real estate investment trust will take up the entire fifth floor of the 253,418-square-foot Midtown tower as it consolidates several different business units from various Manhattan offices there.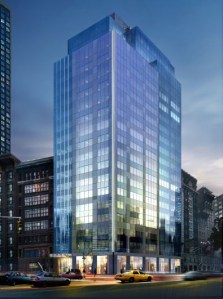 Douglas Neye and David Wassel of Jones Lang LaSalle and in-house broker Jessica Kanfer represented the landlord, Equity Office Properties. Robert Martin, Gil Ohls, and Matt Felice of Jones Lang LaSalle represented the tenant.
JLL has brokered more than 130,000 square feet worth of deals in the building since it was purchased in 2011. "The success of our leasing efforts at 1140 Avenue of the Americas demonstrates the strength of the Bryant Park submarket and the impact a modern building with state-of-the-art infrastructure can have in Manhattan," Mr. Neye said in a prepared statement. "The building was roughly 25 percent occupied prior to its repositioning by ownership in 2011, and we are now approaching 90 percent occupancy. The move-in ready, high-end, pre-built office units continue to be well received by the tenant and brokerage communities. They offer a bright, airy feel that has resonated with our target audience. The tenant roster that we have established is very strong."
City MD, Dabroes Management LP, Bow Street LLC and King & Grove Hotels also announced leases in the building last week. About 31,250 square feet of leasable space remains.