Reed Elsevier Closes Deal at 230 Park Avenue
---
---
Professional information firm Reed Elsevier has signed a 10-year, 71,083-square-foot lease for the entire seventh floor at 230 Park Avenue, The Commercial Observer has learned.
"By its size and the tenant on its own, [the deal] means a lot," Brian Robin, president of Monday Properties, said. "The tenant has exceptional credit and is a very stable organization, which is our sweet spot."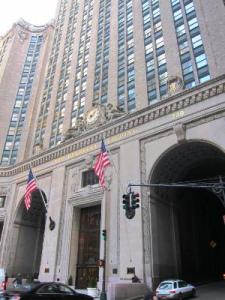 Reed Elsevier's Lexis/Nexis subsidiary will relocate to the Monday Properties- and Invesco-owned building from 125 Park Avenue. Monday Properties will assume responsibility of the build-out of the space, which is expected to take six months once permits are secured.
The deal, which closed late last week, follows 250,000 square feet of leasing at 230 Park Avenue since the first quarter of the year—bringing the building's occupancy rate up to 92 percent from 80 percent this time last year. Asking rent in the building begins in the low-$60s per square foot.
"We have had really good traction over the last year or so. The market generally has an energy to it that makes everyone feel good," Mr. Robin noted. "The building has been showing its momentum on renewals as well as bringing outside tenants in."
Recent activity has included a 23,000-square-foot lease for Lee Hecht Harrison on the building's sixth floor, as reported by The Commercial Observer yesterday. Previously, ING US signed an 11-year extension for 144,000 square feet at the historic building.
Monday Properties acquired 230 Park Avenue in partnership with Goldman Sachs (GS) in 2007. Goldman later sold its stake in the building to Invesco in 2011. Since that time, ownership has overseen more than $100 million in capital improvements, which have resulted in 230 Park Avenue becoming the first prewar office building to achieve LEED Gold certification.
The Real Deal had previously reported Reed Elsevier was closing in on a deal at 230 Park Avenue, based on information provided by CompStak.
The landlord was represented in-house by Jordan Berger and by Frank Doyle, Jonathan Fanuzzi, Paul Glickman and David Kleiner of Jones Lang LaSalle. The tenant was represented by John Cefaly, Kevin Daly and Clark Finney of Cushman & Wakefield (CWK).
125 Park Avenue
,
230 Park Avenue
,
Brian Robin
,
clark finney
,
David Kleiner
,
Frank Doylw
,
John Cefaly
,
Jonathan Fanuzzi
,
Jordan Berger
,
Kevin Daly
,
Lee Hecht Harrison
,
Lexis/Nexis
,
Monday Properties
,
Paul Glickman
,
Reed Elsevier
,
Cushman & Wakefield
,
Goldman Sachs
,
Invesco Real Estate
,
JLL