City Launches Wireless Corridor Challenge and WiredNYC
---
---
Mayor Michael Bloomberg has announced two new tech initiatives to expand the city's access to wireless and broadband connectivity, one of which encourages the deployment of leading broadband technologies across its commercial real estate buildings.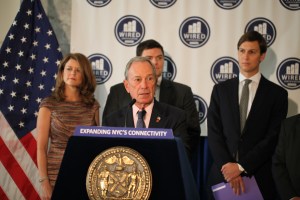 The Wireless Corridor Challenge will establish free public WiFi corridors in each of the five boroughs, while WiredNYC, described as LEED for broadband, establishes a Wired Certification rating system for the city's commercial real estate.
"If New York is going to remain competitive in the global economy, we must find ways to support the entrepreneurs who are driving technological advances and creating jobs," Mayor Bloomberg said this morning during a press conference held at 1 MetroTech Center in Downtown Brooklyn. "With these new initiatives, we are making targeted investments to improve our city's wireless infrastructure and expand Internet access."
WiredNYC ranks buildings as Platinum, Gold, Silver or Connected, based on evaluations of their broadband connectivity and infrastructure, with results appearing on the newly-launched WiredScore.com.
Kushner Companies CEO Jared Kushner is operating the initiative on behalf of the city, while Rudin Management, SL Green Realty, Forest City Ratner and Vornado Realty Trust are among the 10 real estate firms that have already signed on. Mr. Kushner also owns the Observer Media Group, which operates The Commercial Observer.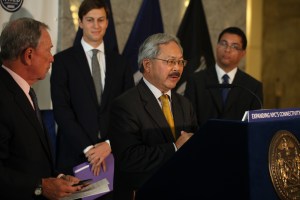 Mr. Bloomberg was joined by Mr. Kushner, Forest City Ratner CEO MaryAnne Gilmartin and, among others, San Francisco Mayor Edwin Lee, whose presence bolstered the recurring theme that cooperation with other high-tech cities is as fruitful as healthy competition.
In addition, Mayor Bloomberg stressed that fast, reliable, cutting-edge Internet service and infrastructure attracts tenants and higher rents, whatever the market.
"It's that simple," he said. "More and more companies will say, "I'm not going to be there if they don't have it.'"
The WiredNYC program will provide solutions to "inconsistencies, lack of transparency, costly delays and friction involved in companies getting their businesses the best possible internet connectivity," said Mr. Kushner, noting a consensus among leaders in real estate, technology and telecommunications communities that "one language for landlords and tenants to easily share information about broadband" is needed.
"While this may seem trivial to some, in a new tech economy Internet speed and reliability are the foundation of business productivity and is a critical factor when companies choose where to take their offices," he said. "What LEED Certification did for buildings' environmental friendliness, WiredNYC will do for a building's connectivity."
The Wireless Corridor Challenge, expected to launch in December with the help of $3.4 million in private funding and $900,000 in city money, will establish new wireless connectivity corridors in Brooklyn, along the Fulton Street corridor, BAM Cultural District, Brownsville and Downtown; in Manhattan, in the Flatiron District, along the Water Street Corridor and the East River Waterfront Downtown, the 125th Street Corridor in Harlem and in Roosevelt Island; in Long Island City, Queens; in Staten Island's St. George commercial district; and on Fordham Road in the Bronx.
Five consultant organizations chosen by the city – the Downtown Brooklyn Partnership, Alliance for Downtown New York/LaunchLM, Brooklyn Academy of Music, GOWEX of Long Island City and Flatiron 23rd St. Partnership will oversee the new WiFi corridors in their respective boroughs for a minimum of three years.
Alliance for Downtown New York/LaunchLM
,
Brooklyn Academy of Music
,
Downtown Brooklyn Partnership
,
Edwin Lee
,
Flatiron 23rd St. Partnership
,
Forest City Ratner Companies
,
GOWEX
,
Jared Kushner
,
Kushner Companies
,
MaryAnne Gilmartin
,
New York City Economic Development Corporation
,
One MetroTech Center
,
Rudin Management Company
,
Seth Pinsky
,
SL Green Realty Corp.
,
Vornado Realty Trust
,
WiredNYC
,
Wireless Corridor Challenge