Barclays Center Draws Mixed Reviews from Hockey Fans
---
---
With their Brooklyn residency still two years away, the New York Islanders took to the ice at the Barclays Center Saturday night in a preseason game against the New Jersey Devils–an early test of how well the arena will serve as a hockey venue.
The reviews that trickled in from fans after the game were mixed.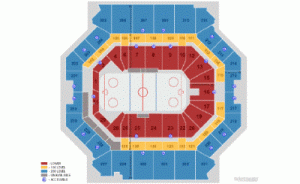 "It's a hockey rink crammed into a concert hall," Chris Elwood told Katie Strang, ESPN New York's hockey beat writer. Mr. Elwood complained his view was obstructed when the puck was behind the net in the arena's West End.
The building, not designed with hockey in mind, holds just 15,813—less than the Nassau Coliseum—and obstructed views or poor sight lines impact some sections.
"You get the creature comforts of a new arena, but I was unimpressed with the spectator area," Megan Leach told the New York Times. "There were a lot of terrible sight lines." Ms. Leach also complained of the lack of tailgating opportunities.
Elsewhere, there were positive reviews for Barclays' hockey action. Richard Seeger, seated in section 9, raved about the shallower seating.
"It's great. I love it. No complaints," he told ESPN New York.
Facebook comments from fans on ESPN New York's website ranged from "I loved my seats" to "the staff were hostile and the sightlines were brutal."
For their part, the players on the ice seemed to enjoy the experience of playing in Brooklyn. Newly minted Islanders captain John Tavares called the game "fun," despite a 3-0 loss.
"Hopefully fans can take away something from tonight and being a part of it," he said.
Still, there is some work to do to convince Islander fans, many of whom traveled over an hour to get to Brooklyn.
"I feel misplaced, almost like hockey doesn't belong here," Steve Cotrone said in an interview with the Times. "It feels fictional."