State Anti-Corruption Commission Slaps Three Top Developers With Subpoenas
---
---
Three of New York's biggest real estate developers received subpoenas from a state commission investigating corruption and after information regarding controversial tax breaks.
The Moreland Commission to Investigate Public Corruption sent the subpoenas to Extell Development Company, Silverstein Properties and Thor Equities. The 25-person commission is seeking emails and other records of dealings with lobbyists concerning the 421-a program, which ostensibly slashes taxes on residential developments in unused or underused areas.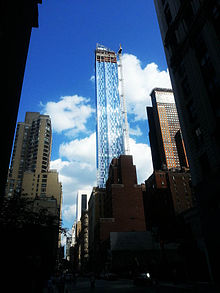 Yet the commission argues that the breaks were given to high-profile developments in high-density neighborhoods. Extell's billionaire-laden One57 condo tower, Silverstein's planned Four Seasons hotel branch in lower Manhattan, and a Thor project in Midtown are the developments at the heart of the subpoenas.
The investigation could spotlight collusion between the real estate lobby and Albany lawmakers. The Wall Street Journal reported the news, quoting sources informed of the subpoenas. The Real Estate Board of New York, the industry's main lobbying branch, pushed for the legislation under examination.
Kathleen Rice, the Nassau County district attorney and co-chair of the Moreland Commission, told the Journal the group has "not prejudged anyone or anything—we are going to follow whatever evidence we have, wherever it goes." The New York Legislature passed (and Governor Andrew Cuomo signed) the bill including the residential property tax reductions in January. Last month, an executive order led to the formation of the anticorruption commission after legislators dragged their heels on a cleanup ordered by Governor Cuomo amid an expansive web of graft controversies and arrests.
REBNY lobbied the legislature and the Governor's office for the 421-a windfall, arguing that the landlords thought their sites qualified for the provision. The Journal reported that at least two of the three developers under fire–Extell and Silverstein–had given millions of dollars toward the construction of low-income apartment unites, a requirement of the 421-a program.
Still, the sites' dense neighborhoods did not qualify for the tax break until the January bill made provisions for five specific Manhattan sites. Critics of the legislation are particularly opposed to how it cherry-picked a handful of projects as exception to the rule rather than overhaul the program to include high-density zones. Meanwhile, REBNY argued all along that the disqualifications stemmed from an oversight.
Brian Paul, of the nonprofit group Common Cause, told the Journal that "if that's the argument they're making—that it was an error in the language… any similar development anywhere in the city should have been included."
Compounding the issue is the fact that 421-a, at in essence an incentive to build affordable housing, in One57's case benefited a development whose penthouse sold for more than $90 million.