Sequence Sublets SecondMarket Space at 636 Avenue of the Americas
---
---
Sequence has signed a sublease for a 4,577-square-foot portion of the fourth floor at 636 Avenue of the Americas, smack at the center of the booming Flatiron District, The Commercial Observer has learned from CompStak.
The subtenant will pay rent in the high-$50s per square foot in the three-year five-month deal, according to CompStak's data, and will sublet the space from SecondMarket, an online marketplace for illiquid assets.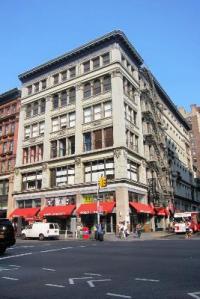 As reported by The Commercial Observer, SecondMarket signed a 50,000-square-foot deal at the William Macklowe Company property in 2011. The company's 10-year deal for floors three through six carried asking rents between $55 and $60 per square foot.
The fully-furnished, pre-built fourth floor space features two offices, two small conference rooms, one large conference room and seating for 22 people, according to a listing on View the Space.
Billy Macklowe acquired 636 Avenue of the Americas in partnership with Clarion Partners in early 2011. Mr. Macklowe later secured a $25 million mortgage on the 90,000 square-foot property.
Jim Wenk, Kurtis Gibbs and Paul Formichelli of Jones Lang LaSalle represented SecondMarket in the transaction, according to the VTS listing. Mr. Wenk had previously represented SecondMarket in the company's initial lease at the building. A JLL leasing team led by Mitchell Konsker represents ownership at 636 Avenue of the Americas.
636 Avenue of the Americas
,
Billy Macklowe
,
CompStak
,
Jim Wenk
,
Jones Lang LaSalle
,
Kurtis Gibbs
,
Mitchell Konsker
,
Paul Formichelli
,
SecondMarket
,
Sequence
,
william macklowe company