Landlords Can Go Green and Save Green with OnForce Solar Photovoltaics
---
---
A globally trending energy solution known as Solar Photovoltaics has been helping reduce energy expenses for property owners, business owners and landlords citywide and nationwide.
With Con Edison's electricity rates notoriously high—it's more expensive here than anywhere else in the country—it's a good idea to bring in a company like OnForce Solar, which helps landlords lessen their energy bills while going green at the same time.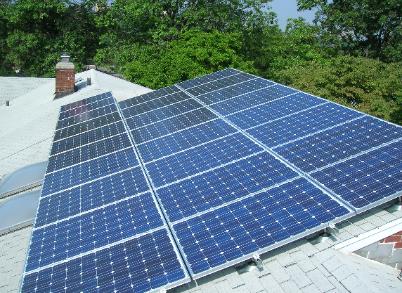 "The biggest expense for everyone is their Con Ed bill each month," Charles Feit, founder and CEO of OnForce, said. "Everyone is a customer for what we do, [as long as] they have a roof and an electric bill."
Unfortunately, this solar solution doesn't work well in Midtown and is most effective in the outer boroughs, which have more industrial buildings with a lot of roof space. There are always exceptions in Manhattan, though, specifically in neighborhoods like Tribeca and West Chelsea.
"We look at the available roof space and the amount of energy consumption in the facility and calculate how much of that energy consumption we can target," Mr. Feit, said. "With solar panels, you're working with a finite amount of space, so skyscrapers in Midtown don't work so well—they're too high up. You don't want to put these things in a cloud."
On average, these solar solutions usually run from about $500,000 to $1 million but can go up to $6 million per building. It's a good investment after three or four years, when the system begins to pay for itself, since you only pay that one-time installation fee.
"We're bringing predictability to an unpredictable part of most businesses' operations, since energy is such a wild card," Mr. Feit said. "Five to 10 years from now, nobody has a clue what their Con Ed bill will look like, but with solar once it's paid off, it's paid off."
The savings vary from project to project based on electricity usage and building site specifics, but the company has installed systems that are already up and running that have offset 50 percent to 100 percent of customers' Con Ed usage, saving them millions of dollars in utility expenses over the life of the system. Customers can go online to track how much money they're saving.
"Because our energy meter is connected to the Web, we're alerted of any potential problems, which helps us make sure that systems are always at peak performance," OnForce Solar specialist and residential sales representative Brendan Heyck, said. "Customers can also use the Web to monitor their savings in real time."
In an ideal world, you'd eliminate the need for Con Ed at all, but even if the solar panels can indeed be outfitted to prove 100 percent of your building's energy, you still have to rely on Con Ed for rainy days and nighttime.
"We can mostly eliminate Con Ed, but there will never be a day where you don't receive a bill from them, too," Mr. Feit said.