The Office Condo Market Is Back
---
---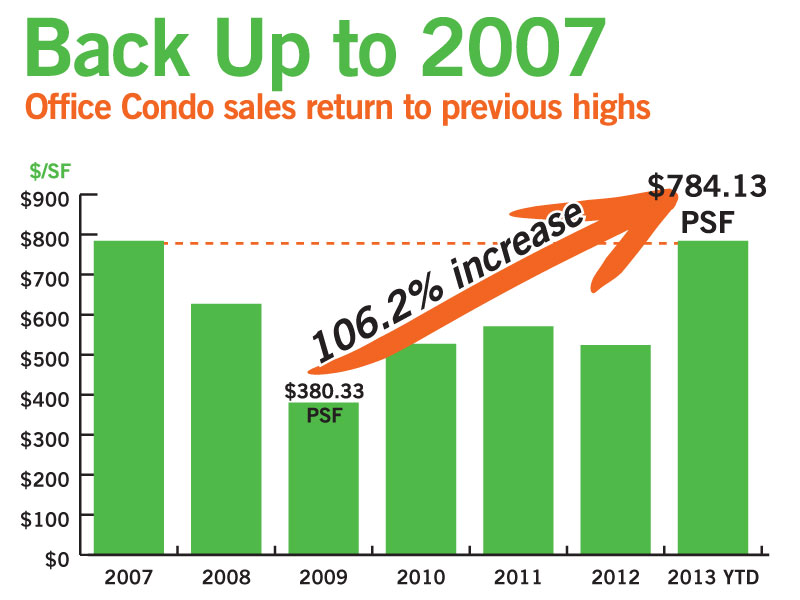 The office condominium investment market is back … to 2007 levels. Through the first five-plus months of 2013, office condo sales averaged $784.13 per square foot, almost matching the level last seen in 2007, when the average price per square foot was $784.31—a mere 18-cent difference.
The number of office condos sold this year was 47, staying consistent with the same time period over the last two years—46 in 2012 and 49 in 2011. The big difference this year is in the price per square foot—it has spiked up to 49.7 percent since the end of 2012 and is up 106.2 percent since the office condo market bottomed out in 2009.
The rise in pricing can be attributed in part to the construction of the International Gem Tower (IGT) condominium on 47th Street. The building has many features that appeal to jewelry businesses' security, including iris scanners, 350 video cameras and tracking; it also has many amenities that rival those of Class A office buildings. In 2013 alone, Extell Development sold 17 condos with an average price per square foot approaching $1,500.
Also contributing to the rise in pricing is the size of the office condo market. Of the 430 million square feet of office space in Manhattan, only 2.58 percent is considered office condos. With a limited overall supply comes a shortage of available units for sale; currently there are only 90 office condos in 29 buildings being marketed for sale. Aside from the IGT, the majority of the inventory that is presently on the market is located in Grand Central and Downtown.
The demand for office condos has come from many different buyer types, with foreign investors and users accounting for 30 percent of the sales since 2010. These investors view the market as a stable investment that has rebounded post-recession, and because of the lack of supply in the market, investors want to purchase space at a lower premium.