Tarter Stats O'Toole Announces Exclusive Assignment in Sizzling Noho
---
---
Tarter Stats O'Toole has announced a plum exclusive assignment and will market nearly 15,000 square feet of retail and office space in one of the hottest intersections below 14th Street.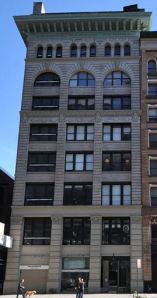 The firm's work at 419 Lafayette Street will bring it to Lafayette Street between Astor Place and East 4th Street and within easy reach of The Public Theater, Blue Man Group, Crunch gym, perennially buzzing restaurant Indochine and the fresh, hyped up brasserie Lafayette.
And, of course, 419 Lafayette Street also bumps up against Edward Minskoff's attention-grabbing 51 Astor Place.
TSO managing members Catherine O'Toole and Stephen Tarter will represent 6,500 square feet of ground floor retail and 8,000 square feet of fifth floor office space in the 57,700-square-foot, eight-story building. The retail portion features 15-foot vaulted ceilings and floor-to-ceiling glass frontage. A statement from the firm says the property is zoned for a gym or restaurant/bar. Meanwhile, the upstairs office space is blessed with 200 feet of windows wrapping around three sides of the building.
Representatives from Tarter Stats O'Toole did not immediately respond to a request for comment.