Pandora Media Takes 52K at 125 Park Avenue
---
---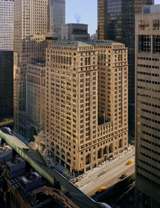 Pandora Media will relocate its New York sales office, The Commercial Observer has learned.
Pandora Media's corporate structure places its main office in Oakland California with several sales offices throughout the country, namely in proximity to recording studios hubs in Chicago, Atlanta, Dallas, Detroit, Los Angeles, and, of course, New York.
The company will move from its space on the 10th floor of 19 Union Square West in favor of SL Green Realty Corp.'s 125 Park Avenue. The new space will span 52,450 square feet across the entire 19th and 20th floor of the 26-story building across from Grand Central.
"Pandora was attracted to the building because of its convenient location with immediate access to Grand Central Terminal and floors that have high slab heights and oversized windows," said Steven Durels, executive vice president and director of leasing and real property for SL Green, in a prepared statement.
Pandora Media was represented by William Iacovelli and Ramsey Feher of CBRE. SL Green enlisted the help of a brokerage team from Newmark Grubb Knight Frank consisting of David Falk, Peter Shimkin, Daniel Levine, and Brian Waterman, to handle leasing activity for the building.
"We are delighted to welcome Pandora to the building," Mr. Durels added. Pandora Media will join notable tenants like Canon Business Solutions, Emerge 212, Newmark Grubb Knight Frank and Robert Half International, which signed a deal for a 38,000-square-foot office last fall.
Though the financial details were not disclosed, SL Green typically requests asking rents in the high $50s through mid $60s per square foot for space in the building. The deal was also inked for 10 years, aligning itself to the building's preference of 5-10 year deals.