Mom and Pop Supermarket Coming to Mercedes House
---
---
This fall, residents of the 900-unit luxury rental Mercedes House at 550 West 54th Street will be able to do their food shopping in the building when MH Supermarket Corp. moves into a 5,000-square-foot retail space at the property. The independent operator, which currently runs a market on Tillary Street in Downtown Brooklyn, has signed a 15-year lease with Two Trees Commercial to open a new location later this year. Asking rent was $60 per square foot.
"It's going to a 'Mom and Pop' with great customer service for tenants," Caroline Pardo, director of leasing at Two Trees Commercial, told The Commercial Observer. "They will focus on delivery, trying to push the delivery market for the residents and the people in the neighborhood."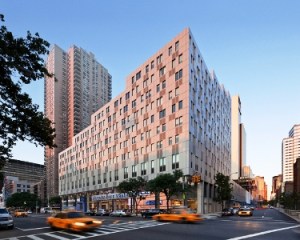 The space, currently vacant, will be outfitted by the tenant once they take possession later this month. It is expected the supermarket will open in late fall. The new supermarket will join Mercedes-Benz Manhattan, a dry cleaner and the New York Police Department stables at the 11th Avenue property.
"It's great that we found a local operator to serve the tenants that is invested in New York and building a relationship with the people in the buildings," Ms. Pardo said.
Earlier this year, Two Trees Management closed on the sale of 162 units in the building to Invesco for $170 million.