Law Firm Renews at 561 Seventh Avenue
---
---
Law firm Thomas S. Fleishall & Associates P.C. has signed a long-term renewal at 561 Seventh Avenue, it was announced today. The firm, which specializes in real estate law, will remain in its 3,491-square-foot space on the 19th floor of the Handler Real Estate property, where asking rent was in the mid-$40s.
The Thomas S. Fleishall transaction is the second law firm renewal at 561 Seventh Avenue in recent weeks. Earlier this month, Lazarus & Harris LLP, a law firm specializing in entertainment, renewed its 3,944-square-foot lease on the 11th floor.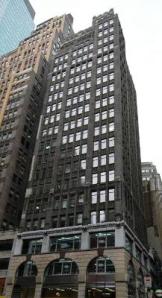 Located on the northeast corner of West 40th Street and Broadway, 561 Seventh Avenue boasts close to 100-percent occupancy. Later this year, London-based sushi restaurant Wasabi is expected to open its U.S. flagship locating on the ground floor of the building.
As reported by The Commercial Observer, Wasabi signed a 2,800-square-foot lease at the Handler property last year and was initially expected to open this spring. The space includes 2,000 square feet on the ground floor and approximately 600 square feet on the mezzanine level.
Scott Galin, principal at Handler, represented the landlord in-house. There was no tenant broker in the transaction.