Urban Outfitters Finalizes Mammoth Deal for "Lifestyle Center" at 1333 Broadway
---
---
Urban Outfitters officially expanded its empire of mass hipster apparel stores–and transitioned into the so-called "lifestyle center" business–when it finalized a lease at Malkin Holdings' 1333 Broadway.
The 15-year lease was for 56,730 square feet spread over three floors. Exactly what the lifestyle portion of this location will be remains unclear. But the space is twice as big as the typical large Urban Outfitters store, and reports from some real estate executives hint at "features never before seen from the brand" at the Herald Square outpost.
The blended asking rent was $6.5 million per year. Andrew Goldberg and Matt Chmielecki of CBRE represented the landlord. Stephen Plourde and Keith Fencl of McDevitt Co. repped the tenant.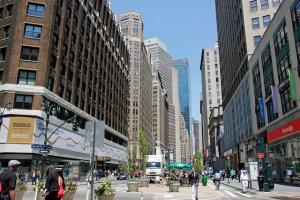 The New York Post broke the news  in February that an Urban Outfitters deal at the Herald Square property was imminent. Those early reports detailed a 61,927-square-foot lease over the basement, ground and second floors. Dick's Sporting Goods had just backed away from that location in favor of 3 Columbus Circle for its first New York store.
So far this year, there have been reports of Urban Outfitters inking or nearing deals at 180 Broadway (for 21,000 square feet) and 242 Bedford Avenue in Williamsburg, a neighborhood whose street style the retailer has long aspired to mimic. There have also been reports of the retailer seeking a restaurant liquor license in Williamsburg, another suggestion that the Philadelphia-based brand has outgrown its roots as a skinny jeans and vaguely vintage curio emporium.
Mr. Plourde confirmed that this is Urban Outfitters biggest New York City store, but was not authorized to speak about the lag between the February news reports and consummation of the lease. The building will be part of Empire State Realty Trust, the investment trust that recently received enough votes to launch an IPO and REIT whose holdings will also include the Empire State Building.
Messrs. Goldberg and Chmielecki could not immediately be reached for comment.