Enclos Corp Expands at the Empire State Building
---
---
Enclos Corp., a façade engineering, design and manufacturing firm, has expanded at the Empire State Building, signing a five-year, 4,705-square-foot lease on the 76th floor. Asking rent for the pre-built space was in the mid-$50s per square foot.
"Taking more space at the Empire State Building is an important statement for any nationally-based company," said Thomas Sullivan, executive managing director at Coldwell Banker Commercial Alliance, who represented the tenant, in a prepared statement.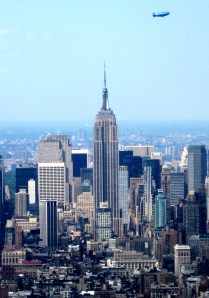 The firm, which specializes in the design and implementation of LEED-certified curtain walls, will keep its current 3,000-square-foot space on the 47th floor. Enclos has done façade work at the Jacob Javits Center and John Jay College, among other projects.
"It seems befitting that one of the country's preeminent building facade firms has chosen to add to its office footprint in a building identified around the world for the signature exteriors and tower," added Richard Selig, principal at CBC Alliance, in the statement.
As reported by The Commercial Observer, the Empire State Realty Trust Inc., achieved the required number of votes necessary to launch an IPO and real estate investment trust that will include the Empire State Building as an asset.
Just last week, The Malkin family, which controls the Empire State Building, announced it was reviewing two offers for the property, of $2 billion and $2.1 billion, respectively. The $2 billion offer came from Ruby Schron, part-owner of the Woolworth Building. The identity of second bidder was not immediately disclosed, but was later reported to be a partnership consisting of a Middle Eastern investment group, Philip Pilevsky and Joseph Tabak, according to Bloomberg.
William Cohen, executive vice president, Ryan Kass, senior managing director, and Shanae Ursini, leasing associate, of Newmark (NMRK) Grubb Knight Frank, represented the landlord, W&H Properties in the transaction.
Coldwell Banker Commercial Alliance
,
Empire State Building
,
Enclos Corp.
,
Jacob Javits Center
,
John Jay College
,
Richard Selig
,
Ruby Schron
,
Ryan Kass
,
Shanae Ursini
,
Thomas Sullivan
,
w&h properties
,
Woolworth Building
,
Empire State Realty Trust
,
Newmark