DZ Bank Renews Nearly 30,000 SF at 609 Fifth Avenue
---
---
DZ Bank has signed a 10-year extension of its 29,524-square-foot lease at SL Green Realty Corp.'s 609 Fifth Avenue, The Commercial Observer has learned.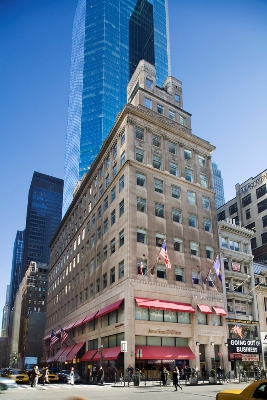 The bank, one of Germany's largest leading international commercial financial institutions, will continue to occupy the entire 7th and 8th floors of the 13-story, 156,700-square-foot boutique office building.
"We are delighted that DZ Bank has elected to remain with us at 609 Fifth Avenue," said Steven Durels, executive vice president and director of leasing and real property, in a statement.
Located across from Rockefeller Center and Saks Fifth Avenue, the building is ideal for financial service companies desiring the "international prestige and high energy of the Rockefeller Center neighborhood," Mr. Durels said.
Other major tenants in the building include American Girl and Reebok International and currently available office space in the building runs between $65 and $75 per square foot, according to marketing materials from SL Green.
Michael Burgio of Cushman & Wakefield represented DZ Bank in the transaction and Howard Tenenbaum and Gary Rosen acted in-house for SL Green. Mr. Burgio declined comment and the SL Green brokers did not immediately return calls seeking comment in time for publication.
Real estate investment trust SL Green is focused primarily on acquiring, managing and maximizing value of Manhattan commercial properties.
As of March 31, 2013, the REIT owned interests in 89 Manhattan properties totaling 41.6 million square feet, including ownership interests in 25 million square feet of commercial properties and debt and preferred equity investments secured by 13.8 million square feet of properties.
609 Fifth Avenue
,
American Girl
,
Cushman & Wakefield
,
DZ Bank
,
gary rosen
,
Howard tenenbaum
,
Michael Burgio
,
Reebok International
,
Rockefeller Center
,
SL Green Realty Corp.
,
Steven Durels