52 Vanderbilt Avenue Welcomes SocialFlow
---
---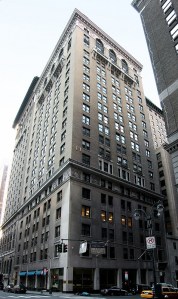 In a recent wave of leasing activity, SocialFlow has inked an office at 52 Vanderbilt Avenue.
Prized for its central location and its connection to Grand Central Terminal, the Brause Realty-owned building will welcome SocialFlow to its 12th floor, where the branding firm will take 9,275 square feet spanning the entire floorplate.
The firm, which will be relocating from around the corner at 2 Grand Central Tower, was drawn to the building for its location and its creative office installation, said Lloyd Desatnick, a senior vice president at Jones Lang LaSalle and a broker on the transaction.
Mr. Desatinick and his JLL team of Frank Doyle and Alexis Tener Petrus were initially brought in by Brause Realty  last year to lease out the remaining space in the building. The combination of high-quality office installations and a strong perception in the marketplace have resulted in the building rapidly filling up, noted Mr. Desatnick.
"The building has attracted tenants in a wide range of industries including finance, technology and media firms," Mr. Desatnick continued. "There has been strong interest from tenants that were previously located in Midtown South looking for a new home in Grand Central."
SocialFlow will be joined by several new tenants including AdLarge Media, a media sales company that will be relocating from Midtown South to take a 9,275 square foot floor in 52 Vanderbilt. The Coalition of Rainforest Nations, U.S. International Media, and Cyrpess Associates have also taken spaces ranging from 2,600 to 5,500 square feet.
Out of the 190,000 square feet in the building, approximately 25,000 remains available.